By Dan Wooding —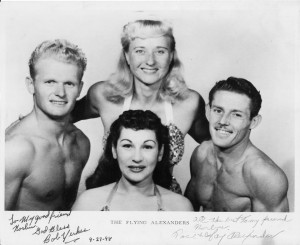 This legendary American stuntman began a life of acrobatics in the circus as a teenager and went on to work as a stuntman in such films as Back to the Future, Star Wars: Episode VI – Return of the Jedi, and Hook.
"I started tumbling down at Santa Monica Muscle Beach, which they now call Venice Muscle Beach, when I was 11, and then I ran away and joined the Clyde Beatty Circus at 15 and joined an acrobatic act," says Bob Yerkes.
"I was with the Ringling Brothers circus trapeze act and my dad or mom had never mentioned God to me and I didn't learn about God at church," Yerkes recalls.
"But with time on my hand, I decided to purchase a Bible and go through it and list all of the contradictions I found in it. It took me a year and four months to get through it and when I finished it I said that this could not have been written by man unless they were God-inspired. It just proved itself to me and all through it God said, 'Put this to the test? Is this man's word or mine?' And as I read it I knew that it was all true and it was God's Word."
Yerkes added, "Everything we're seeing happening today in the world is in there; not vague prophesies, but detailed. So it's amazing book and now that I am a believer, my ministry is in the entertainment as that's business that's where the Lord put me.
"I remember that Roy Rogers and Dale Evans started a group here in the film industry and it was called The King's Stage Christian Actors which I would attend. So after this, I started a Bible study on the Ringling's show and I called it The King's Ring.
Yerkes did his first film stunt work with Elizabeth Taylor in a movie called Julia Misbehaves, when she was 15, a week and a half older than Yerkes. [The 1948 film also starred Greer Carson, Walter Pidgeon and Peter Lawford, who later went onto become a member of the "Rat Pack" and brother-in-law to U.S. President, John F. Kennedy.]
Yerkes revealed that he had doubled such stars as Paul Newman, Robert Duval, and Arnold Schwarzenegger just to name a few.
He said that probably one of the most famous stunts he performed was when he doubled for Christopher Lloyd up on the clock tower in Back To The Future and he slid to the ground.
"Then I doubled Della Reese getting shot out of a cannon on Touched By An Angel," he laughed. "I'd do stunt work in the winter and then out with the circus in the summer."
For ten years he taught a seemingly endless number of celebrities circus acts for the "Circus of the Stars" television specials in the 1980's. Recently, Bob worked in the remake of the film, "Poseidon Adventure."
This modest man is actually one of the premier stuntman in the world. He has received the World Acrobatics Society's Lifetime Achievement Award – Gallery of Acrobatic Legends, and is a member of the Stuntmen's Association of Motion Pictures.
"Since I became a Christian, I tell my friends in the business that I was mentored by the world's greatest stuntman who specialized in 'high work' and that was Jesus Christ who 'stood in' for everybody up on the cross!"
"As believers, we're told to 'hold back' the evil things that are going to take place in the world and we should do this until we're taken out of this world by what is called 'the rapture of the church' — and that's what I'm looking forward to,
"But at the moment, I just keep bouncing on the trampoline, but darn it, I keep coming down again."
If you want to know more about a personal relationship with God, go here