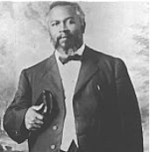 The Azusa Street Mission & Historical Society announced Pastor Silas Malafaia of Brazil as this year's prestigious William J. Seymour Award winner, recognized for his years of dedicated service in ministry, integrity, and leadership.
He will receive the award at the 6th Annual Azusafest taking place April 19-21 in São Paulo, Brazil.
The Seymour Award has been awarded since 2006 and honors a senior leader in ministry who exhibits the characteristics of the Lord's humble servant, William J. Seymour. Seymour, an African American minister, came to Los Angeles over a century ago to share the gospel and in April of 1906, a powerful outpouring of the Holy Spirit occurred when Bishop Seymour gathered with a small group of worshippers. 
There were healings, speaking in unknown languages, and many other miraculous and inexplicable occurrences that began. The news spread and soon hundreds of people started coming from all over the world to the Apostolic Faith Mission on Azusa Street in Los Angeles seeking to experience revival in their own hearts.
The Azusa Street Revival lasted over three years and is widely considered to be the primary catalyst that sparked the worldwide Pentecostal movement. In 1910 William Seymour prophesied that in 100 years there would be an outpouring of God's Holy Spirit that will be greater and more far reaching than what was experienced at Azusa Street.
Currently, it is estimated that over 800 million Pentecostals in the United States, Latin America, Africa, and Asia can trace their religious origins to the Azusa Street Revival and William Seymour.
Pastor Malafaia is considered a generous servant of God, known for bringing churches and leaders together across denominational lines. He is senior pastor of the 25,000 member Victory Assembly of God in ChristChurch in Rio de Janeiro, Brazil. 
He attributes the growth of his ministry to God's direction in his life and obedience to biblical principles. His television program, "Victory in Christ" (formerly "Impact"), has been on the air for over 30 years and is broadcast in Brazil and over 200 countries around the world. Pastor Malafaia's ministry and leadership are marked by his firm biblical convictions and is well known as a defender of the Christian faith on ethical and moral values.