By Aimee Herd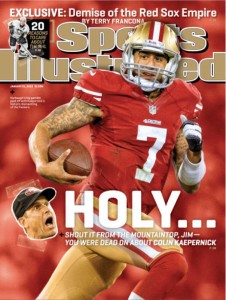 "God has brought me this far, He's laid out a phenomenal path for me and I can't do anything but thank Him." -Colin Kaepernick
This Sunday, the Baltimore Ravens and the San Francisco 49ers will wrangle on the gridiron in Super Bowl XLVII.
The faith of a few members of the NFL has been increasingly highlighted in recent years, and it is certainly not lost on some of this year's players.
Colin Kaepernick is the first. In fact, forget the eye-black-with-Scripture so significant when worn by Tim Tebow in his time as a Gator; 25-year-old Colin Kaepernick of the 49ers has plenty of it-in the form of tattoos on his arms.
Perhaps literally guilty of "wearing his heart on his sleeve" (pun intended), Kaepernick seems to back up the tatt depictions of his Christianity with a personal devotion to the God he follows.
"My faith is the basis from where my game comes from," Colin explained in a Daily Sparks Tribune interview last year. "I've been very blessed to have the talent to play the game that I do and be successful at it. I think God guides me through every day and helps me take the right steps and has helped me to get to where I'm at. When I step on the field, I always say a prayer, say I am thankful to be able to wake up that morning and go out there and try to glorify the Lord with what I do on the field. I think if you go out and try to do that, no matter what you do on the field, you can be happy about what you did."
Regarding his tattoos, Kaepernick told Reuters, "I don't really care what people think about my tattoos. I got them for me and to show people this is what I believe in. God has brought me this far, He's laid out a phenomenal path for me and I can't do anything but thank Him."
On the young quarterback's right bicep the word "Faith" is inscribed, and "to God the glory" and a scroll with Psalm 18:39 elsewhere on the same arm.
On the other side of the field, there is equal passion for the Lord, probably most prominently displayed by the Ravens' defensive leader and linebacker, Ray Lewis.
"I just know that when you put your trust in God, that anything is possible," Lewis told a CSN reporter about making it to this year's Super Bowl contest. Earlier this year, after returning from an injury, Lewis announced that he would be retiring at season's end.
Lewis' fiery on-field persona is balanced by a strong faith in the Lord, one that has helped lead the Ravens through the season, as Lewis reads and preaches from the Bible in the locker room, prior to games.
While Lewis' faith has risen out of troubling circumstances and a very different scenario than that of, say, Tim Tebow-Ray is just as passionate, and has had a huge impact on his teammates, especially this year.
Orlando Magic vice president Pat Williams described Lewis' faith this way, "He's come from a totally different background than someone like Tim Tebow. He has come to Christ later in life but isn't that true of so many? The Bible teaches us that not only are our sins forgiven but they are forgotten."
What does Lewis say?
"Don't look at my yesterday, look at my tomorrow," explained Ray in a Fellowship of Christian Athletes interview. "I've said it before, God never changes. The relationship was there all along."