By Mark Ellis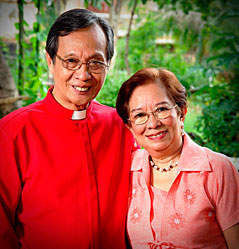 Bishop Fred Magbanua, a pastor, church planter, and denominational leader with wide influence in the Philippines, graduated to his heavenly reward January 21st in the Philippines. He led a movement, as head of Christ Jesus our Life Church, that planted over 160 churches in small villages that previously lacked any church presence.
"With all his accomplishments and credentials, Manong Fred remained a humble encourager, intentionally affirming others around him, especially pastors like me," says Rev. Lloyd Estrada. "He was a pastor, church planter, broadcaster, denominational leader, missions leader; the list just goes on and on. He was a staunch advocate of Bible translation as well; and he showed it by choosing to serve in several roles with Wycliffe," Estrada notes.
Dr. Harold Sala, founder of Guidelines International, recalls the moment that dramatically altered the course of Bishop Fred's life. "In 1960 the Far East Broadcasting Company (FEBC) in Manila, Philippines was experiencing financial troubles.  At the time Fred Magbanua, then the head of its engineering department, was thinking of accepting a lucrative job offer in the US where he would earn many times the sparse salary he was then making," Dr. Sala recounts.
"Fred was tempted–very tempted–rationalizing that they could send money for the support of several pastors by working abroad."
But an unusual accident changed his path. "When warning lights had gone out on the tower that carried the antenna that broadcast the FEBC programming, Fred loaded some bulbs in a bag and climbed the 308-foot high tower to replace the burned-out warning lights," Dr. Sala recalls.
"Not knowing that the grounding system was not working, a high beam with 10,000 watts of RF (radio frequency) current that broadcast the radio signal hit his head using his body as a lightening rod. Literally he was being executed by the tremendous surge of electrical power."
Then two miracles happened. First, Fred was inexplicably released by the current. Secondly, the jolt that slammed his body could have caused a 300-foot fall to the ground. But somehow, as he fell, he became entangled in a step only four feet from the top.
"When he regained consciousness he agonizingly climbed down 304 steps and walked 150 yards before collapsing unconscious in front of the company nurse's home," Dr. Sala notes.
"What was amazing was while he was suspended on the tower, Fred's own tape recorded broadcast was airing at the same time.  He actually heard his very own voice as he spoke about commitment and dedication!  His body had become part of the radio signal. He was actually hearing a radio program he had just prepared."
Fred spent over three months in the hospital. During his recovery, the Lord spoke to him, saying, "Fred, you were challenging your listeners to surrender their lives to me and yet you were planning to run away from the ministry."
"That was the turning point of his life.  He never looked back," Dr. Sala notes.
Fred returned to FEBC Philippines and eventually became president. He served until mandatory retirement forced him to decide about the next chapter in his life.
In 1990 he participated in a church planting conference, where he learned that 20,000 barangays (districts/villages) were without a local church. It was in that congress that God impressed upon his heart the  vision of  "A church in every barangay." He invited several close friends to a prayer retreat to seek the Lord for further direction.
In response, he founded Christ Jesus Our Life, a church planting ministry in the Philippines whose mission is "to help fulfill the Great Commission by preaching the Gospel and planting churches committed to holistic ministry that seeks to improve the quality of life in the areas of health, education, livelihood and pastoral care."
"He was one of the outstanding evangelical leaders of the 20th century," Dr. Sala says.