By Mark Ellis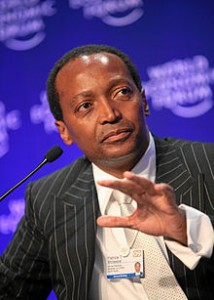 Inspired by the example of several ultra-wealthy individuals in the U.S., South Africa's first black billionaire and its fourth richest man will donate half his assets to help the poor in his country.
Mining magnate Patrice Motsepe announced he will donate half of his personal fortune, which is currently estimated by Forbes Magazine at $2.65 billion, according to a report by NPR.
Motsepe was inspired by "The Giving Pledge," a philanthropic program launched by Warren Buffet, along with Bill and Melinda Gates. So far, their initiative has attracted nearly 100 like-minded billionaires.
Motsepe is making the pledge to assist the millions of South Africans who have seen little improvement in their financial well-being since white-minority rule ended in 1994, according to NPR.
Motsepe's wife, Precious, said that his wealth would be given away throughout his lifetime, according to the Financial Times.
The South African accumulated his wealth as chairman of African Rainbow Minerals, a mining company. The fifth richest man in South Africa is his brother-in-law Cyril Ramaphosa, the Financial Times reports.
There has been no report that Ramaphosa will join his brother-in-law in such a pledge.