By Mark Ellis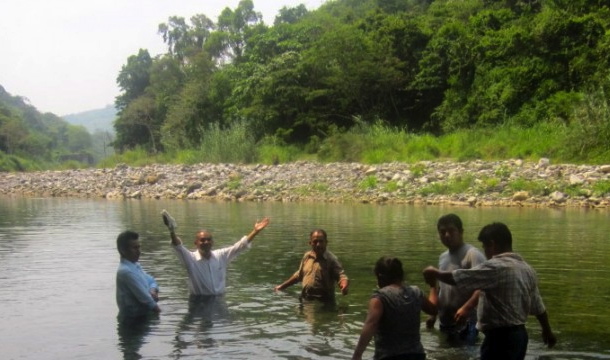 More than 50 evangelicals were arrested in mid-December in a community north of Mexico City, held without food, water, or sanitation, and pressured to renounce their "new" religion.
"We had some most distressing news of renewed persecution of Indian believers in Mexico," says David Kietzman, executive director of Latin American Indian Ministries (LAIM).
There had been strained relations in the community of Pahuatlan, Hidalgo, about 175 miles northeast of Mexico City. "Mostly it had taken the form of pressure on the evangelical pastors, who would be called in, roughed up a bit, and possibly spend the night in jail," Kietzman notes.
"The complaints always focused on the fact that they were breaking the harmony in the community by introducing this 'new' religion that did not respect the old customs, and particularly did not support the village fiestas."
On December 17 the conflict escalated.  At a community meeting to appoint delegates to the fiesta for the coming year, all the evangelicals in attendance were arrested.
"Not only were 52 of them carted off to the very small jail, but also guards were sent to all the exits from the town, so that word of this illegal action could not get out to state officials," Kietzman notes.
"Those in jail were kept without food and water (and access to sanitary facilities), the pastor was kept bound to a chair, and the group was repeatedly told they could not leave until they signed a renunciation of their new religion."
Details of the treatment were supplied to Kietzman through Milamex, a Christian publishing house in Mexico City.
Evangelicals in the nearby city of Huejutla de Reyes knew something was wrong when they could not reach their friends in Pahuatlan . Several church leaders drove to Pahuatlan, but were not allowed to enter town, so they notified state officials, who were also unsuccessful in resolving the situation.
After three days, the prisoners were released. "This led to a most unusual exodus from the town, as Christians in cars and trucks came from the churches in Huejutla de Reyes and helped all who wanted to escape the situation to leave Pahuatlan," according to the report.
About 250 people, including 150 children are staying in a Baptist church in Huejutla. "They lack everything, but all the churches in town are gathering food and clothing, blankets and medicines, to meet their needs," Kietzman notes.
This kind of persecution has taken place in southern Mexico –Chiapas and Oaxaca –but rarely north of Mexico City, according to Kietzman.  "The sad reality is that those leaving a community lose everything: their houses, the right to use the land, animals, even crops ready to harvest. It is devastating to those who suffer this rejection and loss in Christ's name."