By Mark Ellis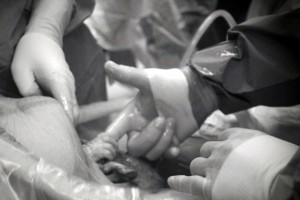 The photo of an Arizona couple's baby reaching from the womb during a C-section and grabbing the doctor's finger has gone viral, according to a story by azfamily.com.
Perhaps it's no coincidence the baby's name is 'Nevaeh' – Heaven spelled backward.  Several staff at the hospital  told her parents there's something almost spiritual about the photo of Nevaeh holding the doctor's finger immediately before her birth.
"The doctor called me over and said, 'Hey, she's grabbing my finger,'" Randy Atkins, the baby's father, told 3TV's Jason Volentine. "So I ran over there and just grabbed the shot and I was just in awe looking at it.  It was such an amazing picture."
Randy was nervous about missing the stunning moment as he hurried to snap the photo.
"It was such an amazing photo," says mom Alicia. "[Hospital staff] had possibly heard of it happening but they had never seen a photo of it."
The Atkins posted their photo on Facebook the day after Christmas, nearly three months after Nevaeh was born. "Truly amazing. I am in awe of this photo," Alicia wrote on the Facebook page.
Nevaeh's mother is a professional photographer in Glendale, Arizona. The picture has received more than 10,000 views and 1,000 likes on Facebook. Alicia has even gotten a few offers to buy the photo, according to azfamily.com.
http://www.youtube.com/watch?v=bWdFupujqW8