By Tonya Andris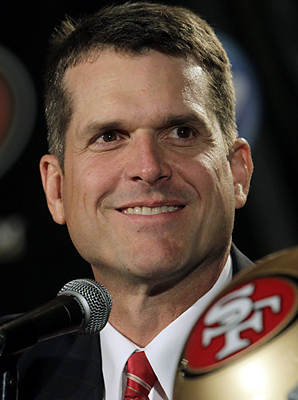 By now, you've probably seen the clip. When 49ers coach Jim Harbaugh's challenge of the catch made by Atlanta Falcons wide receiver Harry Douglas was denied, the coach went into a rage.
Fortunately, for him, the call had no bearing in the result of the Jan.20 NFC Championship game, as his 49ers held off the Falcons, 28-24, to advance to Super Bowl XLVII in New Orleans.
Harbaugh's sideline rants have been the ridicule of many since he has become the 49ers head coach. Some sports journalists don't care for the guy, especially since Harbaugh is hush-hush on issues related to his team that would probably make a great story.
Just when the reporters have the chance to learn about a different side of Harbaugh, they sort of passed it by. But I don't completely blame them. When Harbaugh took his annual trip to Peru to do the Lord's work in June 2012, the mainstream reporters asked about it, but he didn't really elaborate.
However, Harbaugh was more than willing to discuss the trip with media that could relate, such as The Catholic News Agency. Judging from the quote, the trip was quiet personal for him. "The doors that God will open for you by the people you meet or by the circumstances you're in (allow) your character to be shaped and your spirit to grow. Those kinds of doors are opened for (me) here."
If you want to go back further, I found a Bleacher Report guest column from 2008 written by Carla Ingle. The column, titled Jim Harbaugh and Jesus Take The Field ., was created while Harbaugh was head coach at Stanford University. Ingle reveals when Harbaugh was quarterback of the Indianapolis Colts from 1994-1997, he would acknowledge God before beginning his press conferences.
Ingle wrote, "When he first started playing for the Colts it would warm my heart when a reporter would interview him and the first thing he would say was 'I'd like to thank my Lord and Savior Jesus Christ for making all this possible.' Then he would continue on with the interview and address whatever question that had been posed to him."
Then, Ingle began to notice when the wins began to disappear, there was no mention of God and some "not-so-kind words" came from Harbaugh's mouth. Did that make Harbaugh less of a Christian? No – not in the Father's eyes. If we are honest with ourselves, we are human and guilty of this at times.
As Christians, we should be careful not to assume everyone who doesn't put their faith on public display every day is a fair-weather Christian. He uses us in different ways. If only Harbaugh's acknowledgment to the power of God was heard beyond the readers of the CNA others will begin to think a little differently about him.
Baltimore Ravens coach John Harbaugh, Jim's older brother and opponent on Feb. 3, was quite open about his team's inspiration after they defeated the Denver Broncos in overtime, 38-35, in the AFC Divisional Playoff on Jan. 12 and in the win against the New England Patriots for the AFC Championship. Wouldn't it be wonderful to see Jim Harbaugh open a press conference in 2013 in the same fashion he did during that great 1995 he had with the Colts? Either way, we know there is more than rage that sits in the heart of Jim Harbaugh.–The Pew