By Mark Ellis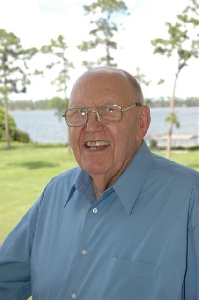 Beloved missionary statesman Dr. Edwin L. Frizen, known to many as "Uncle Jack," passed peacefully into the presence of the Lord on December 22, 2012 in Orlando, Florida after a period of illness and declining health. He was 87.
Dr. Frizen had a distinguished career including many years of executive leadership with the Interdenominational Foreign Mission Association (IFMA) and he played a key role in the launch of SEND International. He also served as acting U.S. director for Pioneers-USA during the late 1990s.
"Jack Frizen was a true mission statesman," says Steve Moore, president of Missio Nexus. "His passion for the Great Commission and unity in the body of Christ was evidenced by his involvement in the founding of SEND International, his 29 years of leadership with the IFMA, and his public support of the merger that formed Missio Nexus. His life example inspires all of us to persevere and finish well."
At an all-team meeting with Pioneers staff in Orlando earlier in the year, Dr. Frizen described himself as "an ordinary person with an extraordinary God." He spoke of "being in the right place at the right time," in his service to Christ, according to Pioneers.
When one is at God's right place at God's right time, great things can happen.  "That's the story of my life," Dr. Frizen told Pioneers staff members.
Born March 9, 1925, Frizen's parents dedicated him to missionary service when he was only three-years-old. He responded to the gospel at age six during a tent meeting his father held for children and at age 12 dedicated his life for missionary service.
While serving in the U.S. Navy Seabees during World War II, Frizen was heavily involved in the launch of an evangelistic program that was the beginning of SEND International.  After several years of service in the Philippines, Frizen and his wife, Grace, were placed on loan to the IFMA of North America, where he served as executive director from 1963-1991 and consulting director from 1991-92.
Dr. Frizen was the recipient in 1976 of the National Association of Evangelicals' Layman-of-the-Year Award.  In 1992, he was named Distinguished Alumnus by Columbia International University.  In 2002, the Pioneers Frizen Missionary Training Center was named in honor of Dr. and Mrs. Frizen. In 2009, "Uncle Jack" was presented with Pioneers' Lifetime Ministry Achievement Award for his ministry service.
Throughout his life, Dr. Frizen served in many different capacities. He was an honorary U.S. Board member of SEND International and served as an officer and board member of a number of Christian organizations, including: the Evangelical Missions Information Service, National Association of Evangelicals, World Evangelical Alliance and the WEA Missions Commission, the Tyndale House Foundation and the Henry Parsons Crowell & Susan Coleman Crowell Trust.
He served as Acting U.S. Director for Pioneers-USA from November 1998 to August 1999. He served as a member of the U.S. and Canadian boards of Pioneers and Pioneers International Council.
Dr. Frizen was an active member of Filipino International Christian Church in Orlando. He was preceded in death by his beloved sweetheart Grace Elizabeth Howell Frizen on December 27, 2005, after over 55 years of marriage.
A memorial service is planned for 10:30 a.m., January 11, at Wycliffe Bible Translators Volunteer Center, 10968 John Wycliffe Blvd., Orlando, FL. In lieu of flowers, the family welcomes contributions to the Edwin L. Frizen, Jr. Missionary Training Fund (Account #150670) at Pioneers. The purpose of the fund is to carry on Dr. Frizen's legacy of training and prayer for missionaries to the unreached peoples of the world.