By Mark Ellis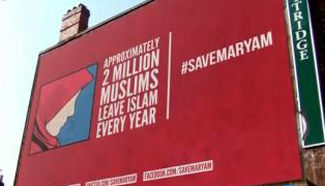 A sophisticated media campaign was launched last summer to reverse the trend of Muslim conversions to Christianity in Indonesia.
Mercy Mission, a charity registered in London, launched their fundraising and social media campaign called "Save Maryam" in July with Arabic and English videos posted on YouTube and Facebook. They reported the video helped them raise $ 2.0 million in the first 48 hours and within a week they had over a million hits on their campaign website.
Dr Tawfique Chowdhury, founder of Mercy Mission and leader of the campaign, graduated from the college of Shariah from the Islamic University of Medinah. His background includes work with a multinational IT company and he is a practicing medical doctor in Australia.
"Early in 2004 our team began to receive reports of huge numbers of people leaving Islam in Indonesia," Mercy Mission's press release launching the campaign stated. "At that time we were informed of findings showing that within our lifetime the rate of growth of Christianization was heading for a massive societal as well as geopolitical shift in the region.
'It would resemble East Timor when a few decades ago, due to the high levels of Christianization – it had broken off fromIndonesia. Due to a 70 times increase in the number of Christians in just 100 years, what was happening in Africa was also significant."
The Save Maryam video released on YouTube claims that two million Muslims leave Islam every year for Christianity inIndonesia, a figure challenged by many observers. In response to the criticisms, Mercy Me made a slight revision to the video's English version and unlisted it on YouTube. However, there are many copies running in cyberspace and the Arabic version continues to run unedited, raising money for their campaign.
Pioneers USA, a Christian mission organization, launched their own initiative to counter the impact of Save Maryam. "The sophistication of this (Save Maryam) campaign and the response to it is startling," a spokesperson for Pioneers stated. "It is one of many examples of Muslim resistance to Christian work."
"They fear that if organizations like Pioneers continue their work unopposed, Indonesia might cease to be a Muslim country sometime in the next 25 years," Pioneers noted.
The Save Maryam video contains at least 12 clips taken from Pioneers' videos. The Pioneers spokesperson believes the Mercy Mission will not succeed: "Our battle is not against flesh and blood. It is not even against Islam. Scripture assures us of the outcome. Jesus will be joyfully worshipped by every nation, tribe, people, and language. People respond to the simplicity of the gospel."
http://www.youtube.com/watch?v=S6oDKyPmDgk