By Mark Ellis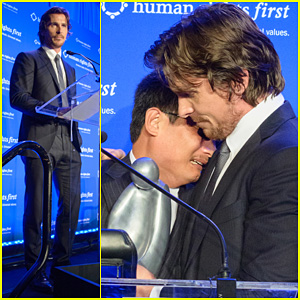 Actor Christian Bale expressed his revulsion toward China's forced abortion and sterilization policies as he presented an award to blind Chinese human rights activist Chen Guangcheng on October 26th.
Bale extolled Chen's courage and his personification of the hopes of the Chinese people for freedom. He also highlighted Chen's fight against forced abortion in China.
"He [Chen] had exposed a program of forced abortion and sterilization in Shandong," Bale stated at the Human Rights First event. "A program of forced abortion means that women are being dragged from their homes against their will. They are being forced to have abortions, sometimes late-term — imagine that — with some women reportedly dying in the process."
Bale did not mince words in his forceful denunciation of China's government. "Now this is true horror. And in this insane world, this man, Chen, who was helping these women — who was living by some of the most simple, brave and universally admired values — values that we teach our children every day, and helping our fellow man — for this, this man was imprisoned and beaten for over four years."
In December 2011, when Chen was in China under house arrest, Bale tried to visit Chen but was attacked by thugs, which prevented him from visiting Chen's village.
"What I really wanted to do was shake the man's hand and say 'thank you,' and tell him what an inspiration he is," Bale said then.
Bale has received commercial recognition for his role as Batman in Christopher Nolan's Batman Begins (2005), The Dark Knight (2008), and The Dark Knight Rises (2012). He also portrayed Dicky Eklund in The Fighter (2010), for which he received the Academy Award for Best Supporting Actor.
"Christian Bale has become a human rights champion in his own right," says Reggie Littlejohn, president of Women's Rights Without Frontiers. "He risked his safety to visit Chen last December. His attack by Chinese thugs brought visibility to Chen's case. This visibility greatly helped the international effort to free Chen. And Bale is brave to condemn the practice of forced abortion in China."