By Dan Wooding —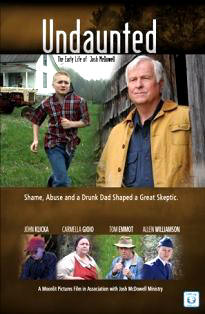 Millions of people know Josh McDowell as a leading apologist for the Christian faith, a presence for decades on college campuses, a humanitarian and the author of more than 138 books including New Evidence That Demands a Verdict and More Than a Carpenter.
But, far fewer people know Josh McDowell as the child of an alcoholic father and a physically challenged mother; a boy who suffered years of sexual abuse by a man who worked on the family farm.
Welcome to Undaunted: The Early Life Of Josh McDowell. With this award-winning, "pull no punches" docudrama, McDowell takes viewers into the terrible circumstances of his boyhood, ultimately lifting them up with the inspiring, true story of how he came to faith and learned to forgive his tormentors.
"I am very sure that this will get people to have more confidence to share their own testimony," McDowell told the Christian Post. "When I look into the audience, wherever I speak, I know that a third of them have suffered some kind of sexual abuse."
Distributed by EchoLight Studios, Undaunted, which features and is narrated by McDowell, dramatizes the life of an 11-year-old who curses God for the abusive life he faces. Finding escape in athletics and the Air Force, McDowell eventually enters college, trying his best to intimidate and humiliate the few Christians on campus.
A challenge to him to disprove the resurrection starts a two-year investigation in the U.S. and Europe. Becoming convinced that the evidence supports Christian claims, the former skeptic begins attending church, eventually giving his life to Christ. Over a period of a year and half, McDowell grows in his faith, eventually forgiving his father (who quit drinking in response and became a powerful Christian witness in his hometown) and finding and forgiving the abusive farmhand. Ultimately, these encounters with grace lead the young McDowell to offer his life to God's service.
The powerful film recently earned two Crown Awards for Best Evangelistic Film and Best Documentary from the International Christian Visual Media Conference. Undaunted is written and directed by award-winning filmmaker Cristobal Krusen.
"We couldn't be more proud to partner with Josh McDowell, who has the strength to share this personal part of his life story," EchoLight Chief Global Strategist Christopher Morrow said. "It's an honor to work with someone who has had such an impact all over the world."
In addition to McDowell, Undaunted features Allen Williamson (Abduction) as Josh as a young man, John Klicka (For the Glory) as the boy Josh and Tom Emmott as his father.
Undaunted will be available Oct. 16 through such leading online and retail providers as www.Amazon.com, LifeWay Christian Stores and Family Christian Stores, among many others.
Since 1961, Josh McDowell has crisscrossed the world sharing the Good News about Jesus with the Josh McDowell Ministry under the umbrella of Cru (the U.S. division of Campus Crusade for Christ International). He has spoken to more than 25 million people, through 26,000 talks, in 125 countries. Josh has written or co-written more than 138 books including New Evidence That Demands a Verdict, named by Christianity Today as among the most influential Christian books of the past 60 years. In addition, Josh's humanitarian relief efforts have sent more than $46 million worth of aid to help children in the former Soviet Union. — ASSIST News
Learn more at http://www.josh.org/.
If you want to know more about a personal relationship with God, go here