By Mark Ellis —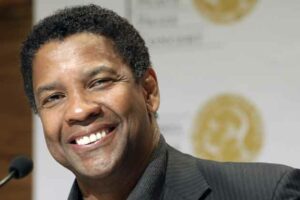 Oscar-winning actor Denzel Washington told GQ Magazine he reads the Bible every day and had an intense encounter with the Holy Spirit in his twenties.
"I read from the Bible every day, and I read my Daily Word," he told GQ's Michael Hainey. The devout Christian and son of a Pentecostal minister also talked about his father's influence in his life.
Washington said it was not difficult to be a preacher's son. "He wasn't a taskmaster, but there were certain things you couldn't do. He had his own church, and it was a long Sunday, because you had to be there all day."
While Washington felt some rebellion as a teen when his church attendance began to feel like "a job," he's thankful for his father's presence and influence. "Everyone I grew up with didn't have a father. I had a father. My father was a decent man. He was a very spiritual man and a gentleman."
The double Oscar winner had an unusual encounter with the Holy Spirit as a young person that left him changed. It happened in the church he still attends, 30 years later.  "The minister was preaching, 'Just let it go,' Washington recalled.
"I said, 'I'm going to go with it.' And I had this tremendous physical and spiritual experience," he says.
The incident provoked the fear of the Lord in the budding actor. "It did frighten me," he said. "I was slobbering, crying, sweating. My cheeks blew up. I was purging. It was too intense."
Washington's experience left him with questions. "It almost drove me away. I called my mother, and she said I was being filled with the Holy Spirit. I was like, 'Does that mean I can never have wine again?'
The famous actor admitted his father's preaching style informed his film portrayal of Malcolm X. "Preaching is preaching, be it Malcolm X or…" he noted. "I don't want to generalize and say 'the black church,' but there's a certain style. And growing up with that, I understood it."
"I remember certain cadences in the way my father would set up certain things. And when I would hear Malcolm X, I would say, Oh, he sets it up the same way. It's a rhythm. It's almost music."
In the GQ article, Washington also issued a strong challenge to fathers in the African-American community. "Take responsibility," he admonished. "One of the things that saddens me the most about my people is fathers that don't take care of their sons and daughters. And you can't blame that on The Man or getting frisked."
"Take responsibility," he repeated. "Look in the mirror and say, 'What can I do better?' There is opportunity; you can make it. Whatever it is that you choose, be the best at it. You have an African-American president. You can do it. But take responsibility."
Then Washington urged a creative approach to a spiritual discipline: "Put your slippers way under your bed so when you get up in the morning, you have to get on your knees to find them. And while you're down there, start your day with prayer. Ask for wisdom. Ask for understanding," he intoned.
Washington also noted that in his devotional time prior to his interview with GQ, he was struck by this advice: "Don't aspire to make a living. Aspire to make a difference."
Washington and his wife, Pauletta, have been married since 1983.  They have four children. In 1995, the couple renewed their wedding vows inSouth Africa with Archbishop Desmond Tutu.
At various times in his life, Washington considered becoming a preacher. In a 1999 interview he said, "A part of me still says, 'Maybe, Denzel, you're supposed to preach. Maybe you're still compromising.'
"I've had an opportunity to play great men and, through their words, to preach. I take what talent I've been given seriously, and I want to use it for good," he stated.
To know more about a personal relationship with God, go here
To read the full GQ story, click here