By Jerry Wiles, President Emeritus, Living Water International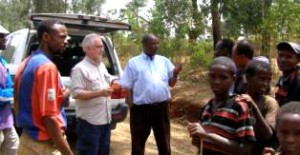 An important aspect of Orality Strategies is the appropriate use of questions. Have you noticed how questions prompt people to think in ways they might not otherwise? Questions create interest and curiosity and can bring clarity. A friend and mentor of mine says it is important to ask the fog-cutting questions.
Dr. Robert E. Coleman, respected scholar, theologian and author of many classic books on evangelism and disciple making, has pointed out that of the 183 questions that Jesus was asked, as recorded in the New Testament, He only answered three of them directly. The others He answered by asking another question or telling a story or parable.
A large part of Living Water International's Orality training strategies is the use of questions. Questions are very important, both in sharing the gospel and in disciple-making efforts. Sometimes we start with a question, and other times with a story. In relation to sharing the gospel (personal evangelism), it works well to just start with a question.
Many have found the following examples to be great conversation starters in sharing the gospel:
* Would you like to hear a story that will help you discover the path to God?
* Would you like to hear a story that will help you have a more personal, intimate relationship with God?
* I just learned a new story. Would you like to hear a true story from the Word of God?
* How would you like to hear a story that will help you deal with the fear of death?
* May I tell you a story that will help you know how to deal with the problems and difficulties in life?
* Have you noticed any signs of spiritual awakening?
* Have you noticed how people are thinking more about the Lord or spiritual things?
These questions, or some variation, can be very effective in opening up a conversation about spiritual matters and one's relationship with the Lord.
In the case of the disciple-making process or in a teaching situation, telling a set of stories and asking a series of questions can be effective in communicating behavior-changing and character-transforming truths. The following are just a few examples of the kind of questions we use with the five-story set in LWI's basic Orality Training Workshop:
* What are the common themes in these stories?
* What is the significance of water and wind in these stories?
* What do we learn about who Jesus values?
* What do we learn about who God chooses to use in His Kingdom work?
* Does God still heal blind eyes or deliver people from demon-possession today?
* How should these truths or lessons effect how we relate and minister to people today?
Lunch discussion groups
It is critical to make sure we are using questions and stories in a biblically-based and culturally-relevant manner. In addition to using questions and stories to communicate the gospel and make disciples, they are valuable in building community and in creating and maintaining relationships.
The use of questions has many ramifications. For example in the story of Jesus Calming the Storm, as recorded in Mark 4, consider the following questions:
* What do we learn from the following question the disciples asked Jesus? "Master, don't You care if we drown?"
* What do we learn about the disciples from that question?
* Why was Jesus sleeping in the back of the boat? What do we learn from that?
* What do we learn from the following questions Jesus asked His disciples after He calmed the storm? "Why are you so afraid? Where is your faith?"
* From the story, what do we learn about the humanity of Jesus? What do we learn about His Deity?
A lady who participated in one of LWI's Orality Training Workshops said that since the training, she can't get the stories out of her mind. She went on to say, "That is a good thing" She described how she often meditates on the stories and questions as she goes to sleep at night or wakes up in the morning. When facing difficult situations or problems, she said these questions come to her mind: "Why are you so afraid? Where is your faith?" She told us how that is such a comfort and encouragement to her.
Trainee retelling a story
Questions can be an important part of our prayer lives. Ask God questions like: "Lord, what do you want me to do? or, What do you want me to say?" Just those brief prayer questions can make a big difference in the way we act or what we say. So often God demonstrates how He desires to intervene and answer our prayers. God loves to hear prayers and questions like these and to respond in such a way that brings honor to Him and builds our faith.
The late Dr. Avery T. Willis Jr. used to remind us often of the importance of asking questions. He said that questions are like hooks and stories are like loops. His book, "Truth That Sticks: How to Communicate Velcro Truth in a Teflon World," that He and Mark Snowden co-authored before Avery went to be with the Lord in 2010, is a great resource on orality and would be very helpful to anyone interested in becoming more effective at telling stories and asking questions. It also helps us understand how Jesus made disciples, and how the lessons we learn from Him will work for us today. In their book, they point out that Velcro is make up of hooks and loops. That is what makes it stick.
Among the several thousand people who have participated in LWI's basic Orality Training Workshops, we have noticed that one of the favorite stories is "Jesus Calming the Storm." When people learn the story, retell it, reflect on it, ask questions and discuss it, amazing insights and understanding come from just this one short, simple story. It is easy to learn and a favorite to tell.
After telling, retelling and discussing the stories, we ask a series of questions for reflection and discussion. There are numerous questions that can be asked about each story. Then after trainees learn a set of stories, there is another series of questions asked to engage with the stories. Just to get people started, we initially ask the following questions: 1. What is the main message in the story? 2. What are the important lessons? 3. How does it apply to our lives?
People always come up with amazing insights and understanding, and sharing together creates a very rich learning experience. It is interesting to observe how the Holy Spirit touches peoples' hearts and transforms their lives in this process. Many times people with very little education or theological background can grasp the truths and understand how it relates to their own lives.
In relation to the story of Jesus Calming the Storm, everyone can relate to having storms in their lives. Storms represent the problems, difficulties or crisis situations in our lives. A great way to introduce this story is to ask a question like: "Would you be interested in hearing a story that will help you cope with the pressures, frustrations, problems or difficulties you face?"
With appropriate training and preparation, one can start with a story to address some felt need, then move on to sharing Jesus and the way of salvation, healing or deliverance. Almost any story from the Word of God can be used to point people to Jesus of Nazareth as the source of meeting all our needs. A key factor is the use of appropriate pre- and post-story questions, dialogue and discussion. The story becomes the vehicle in communicating the message, truths or lessons that people need to hear.
In some of LWI's more advanced training for trainers, we use the story of Jesus calling His first disciples, from Mark chapter one. In relation to Jesus' statement to Simon Peter and Andrew to, "Come follow Me and I will make you fishers of men," the Scripture says, "Immediately, they left their nets and followed Him." There is a common theme we find in a story set of the woman at the well and the story of the blind beggar. We discuss the things people left behind in order follow, go to or tell about Jesus. In the application questions we ask, "What have you left behind in order to follow Jesus or tell others about Him?" Lots of rich conversations and encouragement come from that process.
When we think about the Samaritan Woman at the Well, we ask: "What do we learn from the fact that the woman left her water pot in order to go and tell about her encounter with Jesus?" A great question that can be asked about the Blind Beggar Bartimaeus is, "What do we learn from the fact that this man threw off his outer garment, jumped to his feet and came to Jesus?" All kinds of insight and understanding comes when we simply tell the stories and ask the questions. We emphasize the fact that you do not need to be a Bible scholar or an articulate speaker; simply telling stories and asking questions can be transformational. However, it is not our ability to tell stories, but the power of God, the Holy Spirit, to touch hearts and change lives as we tell the stories and ask questions. It really does level the playing field so that every follower of Jesus can be used to bring others to a relationship with the Lord and be reproducing followers of Christ.
Some time ago, I lead an Orality Training Workshop in a church in the United States where a good number of the people have known each other and attended church together for many years. By the end of the workshop, they were all in tears as they shared from their hearts how they had come to Christ, experienced transformation, and had overcome the storms, difficulties and problems in life. It was learning, retelling and discussing the stories that set the stage for them to share from their hearts, which they had never done before. They had been attending church together for many years, but had never really connected in this way at a heart level before.
Whether it is in Asia, Africa, Latin America, the United States or the Western World, stories and questions are powerful tools in sharing the gospel and making disciples. If our Great Commission strategies are to be effective and truly reproducible and transferable to any place and people, they can't be dependent upon literate means or technological resources, as valuable as they can be. What is totally reproducible and transferable is that which can be transferred to one person's head and heart that can be reproduced in another person's head and heart.
What we are learning about how effective orality methods are in behavior change and character transformation is very encouraging. It is the more natural way that people everywhere learn and communicate. In fact, what we learn that works well in oral cultures is also more transferable to the Western world and literate societies than taking our literate styles of communication to oral cultures.
——————————————————————————–
Jerry Wiles serves as president emeritus of Living Water International (http://www.water.cc). Living Water is one of the world's leading faith-based water solutions organizations with operations in Asia, Africa, and Central and South America. Having gotten involved in orality-based evangelism and disciple making strategies in the 1980s, he has been a paradigm pioneer in the orality movement and presently serves on the advisory council of the International Orality Network. Wiles' has more than 35 years' experience in ministry and international mission work. He can be contacted at JerryWiles@water.cc