By Ava Thomas —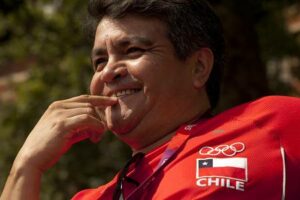 José Cárcamo learned the ways of a communist rebel a long time ago. Committed to the cause, he studied in Chile, Cuba and Russia.
But his activism didn't change his life the way he thought it would.
"There was a lot of fighting going on in my country back then, and when it all came to an end in 1989 and didn't end the way I wanted, I felt very depressed," said Cárcamo, known as Pepe. "I was discriminated against because of my political views, and I felt very alone."
Everything fell apart — his marriage, his plans for the government, everything.
"I felt lost," Pepe said.
But God's plan for him was right on schedule, he said. "I looked at my life, and I didn't see God reflected in my life. I started to wonder, 'Did God abandon me, or did I abandon God?'"
Pepe grew up Catholic but never really thought much of it, he said. He wrestled with his faith until 2010, when he finally decided to go looking for the God he'd never believed in.
"I cried out, 'Dios ayudarme (God help me),' and I started reading the Word of God. I felt His love, and I got a connection with Him then that I'd never felt before," he said.
He started looking for a church and eventually made his way to a service held at a local Baptist seminary.
"I really met God there," he said.
In the time since, Pepe has started taking classes at the seminary and has used his job as an athletic trainer to show athletes the love of Christ. This week, he's with the Chilean Olympic team in London for the Summer Games, working with the athletes for 12- to 14-hour days.
"My life is my worship to God and my witness to them [the athletes]," he said. "Some of them have come up to me and asked me who Christ is just from being around me and seeing my life with Him."
And by his life, he means the way the formerly "depressed, aggravated" political man now lives with a joke and prayers of thankfulness on his lips.
"After Russia and Cuba and everything else, the thing that made me the happiest was just knowing that God loved me exactly as I was," Pepe said.
It's something he said he wants to pass on.
He started telling athletes about Christ during the 2011 PanAmerican Games in Mexico, and after the Olympics he will be headed to Italy, France and Japan to tell more people about the hope he's found.
"I am a sheep to God and a shepherd to the world," Pepe said. — Baptist Press
If you want to know more about a personal relationship with Jesus, go here