By Mark Ellis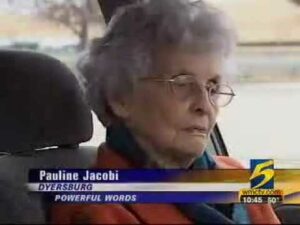 She faithfully reads her Bible every day and takes Jesus everywhere she goes. Her bold, faith-filled witness helped stop a would-be mugger in his tracks.
"Pauline Jacobi had just finished putting her groceries in her car at Wal Mart," reported Nick Paranjape, with WMC TV Memphis.  Only seconds after Jacobi got in her car a man jumped into the front passenger seat.
"I have a gun and I'll shoot if you don't give me money," the man said.
Jacobi firmly said "no" to the man three times, and then she started to talk to him about her faith. "If you kill me, I'll go to heaven and you'll go to hell," she said. "Jesus is in this car and he goes with me everywhere I go."
Something about her words penetrated the man's soul. As he looked away from Jacobi, tears began to form in his eyes.
"Jacobi ministered to the man for 10 minutes inside her car," according to WMC TV.
After a few moments of introspection, the man told Jacobi, "I think I'll go home tonight and pray.
"You can pray anytime you want to," Jacobi replied. She reached into her purse and voluntarily gave the man everything she had left — $10.
Tears rolled down the man's cheeks as he reached out sheepishly and took her money.
"Don't you spend it on whisky," she told him.
The man thanked her and quickly leaned over and kissed Jacobi on the cheek. Then he walked away.
"Police are still searching for the man who tried to rob her," reports Nick Paranjape, with WMC TV.