By Mark Ellis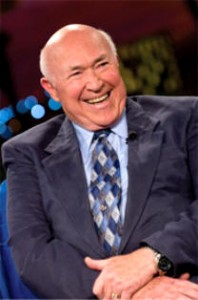 In an emotional communion service preceding the Wednesday night Bible study last night, the founder of the Calvary Chapel movement announced that his lung tumor has shrunk appreciably and is no longer active.
Choking back tears at the Lord's table, Pastor Chuck Smith, 85, conveyed his doctors' report from the previous day, which revealed his tumor had shrunk from 30 x 28 millimeters to 6 x 10 millimeters, according to a staff member at the church.
When Pastor Chuck first came out there was a moment of anticipation. "Everybody was on pins and needles," says Bernard Aiken, a lead usher. "We were thinking the worst."
The congregation stood amidst a few seconds of hushed silence as the highly-loved pastor delivered news from his doctors. When the congregation realized it was good news, the atmosphere changed dramatically. "The whole place went into a big buzz, with people clapping and praising the Lord," Aiken reports.
Many in the audience wept with joy along with the legendary pastor.
The church was stunned on January 1, 2012 when Pastor Chuck announced during the morning services that he had lung cancer and would undergo a biopsy the following week. At the end of the third service that day, his son-in-law, Brian Brodersen, joined with other pastors at the huge church, anointed him with oil,  and prayed for his healing.
Indeed, Pastor Chuck said this recent news was an answer to many who have been praying around the world, and he offered all praise, honor, and glory to God.
Pastor Chuck said doctors confirmed the tumor is no longer metabolically active – it is dying.
His blood counts, which reveal the presence of cancer cells, had fallen from 15.5 to 6.4. A normal count is below 3.
Pastor Chuck has been receiving radiation and chemotherapy treatment. He will no longer need to have radiation, but will continue some chemotherapy treatments.
"There were about 1000 to 1500 people in attendance," says usher Michael Wayne. "It was an emotional moment."