By Mark Ellis —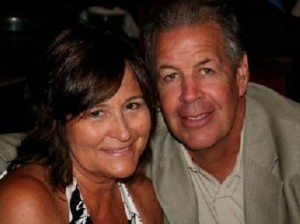 Could the appearance of a hummingbird, a flock of geese, or a beautiful sunset bring comfort and peace to grieving loved ones following an untimely loss? Does God send such signs to his beloved to help the process of mending their hearts?
Recently our dear friend Kathy Buskirk passed into the waiting arms of the Lord after a valiant battle with cancer. At the relatively young age of 60, her loss was devastating to her friends and family.
In the days leading up to her passing, family members noticed a hummingbird had constructed a nest in a palm bush next to their front door, something that had never happened.
"I would jokingly refer to Kathy as my 'hummingbird,'" says husband David, "as she had so much energy and was always busily doing so much.  In fact, to commemorate this reference she bought a metal hummingbird for our kitchen wall.  Later she attached a cross to the bottom, how ironic!"
The appearance of the nest by the front door struck several as unusual. "It was very strange that a hummingbird would nest in such a busy location," David thought. "She would sit on her eggs and allow us in and out throughout the days of Kathy's passing.  She was always there watching us, allowing us to watch her, and giving us comfort."
After Kathy's memorial service, a reception was held in the backyard of Kathy's brother's house. As friends and family stood in the backyard – several miles away from Kathy's and David's house – they noticed a hummingbird perched in the branch of a tree that overlooked the gathering.
"We were there for hours and the hummingbird stayed perched looking down on us for most of the time," David notes. "Hummingbird sightings are relatively rare and certainly they rarely just perch as they are usually moving, rushing from here to there.  This bird seemed to just be watching, listening, and comforting us."
Two weeks after Kathy's passing, the eggs hatched next to the Buskirks' front door, as David continued to watch in wonder. "She's back and forth feeding her babies," David says. "I am alone now in the house and she continues to give me comfort." His departed wife was very nurturing – a woman who always seemed to be focused on meeting her family's needs.
Shortly after the babies hatched, David took their golden retriever, Gracie, on a walk to the park. "I sat on the bench while throwing Gracie a ball.  I felt a little sad and alone," he recalls.
"Right in front of me appears a hummingbird; it hovers, then floats to the sky out of sight.  Then out of the blue another one — or the same one — hovers in front of me, then floats to the sky out of sight."  As David watched in amazement, the bird appeared and reappeared five times.
"I don't think Mom likes it when I'm sad," he says.
David sees the hummingbird as a symbol of love, joy, and beauty. His spirit-filled wife gave off these same qualities because of her close walk with Jesus.
"The hummingbird is also able to fly backwards, teaching us that we can look back on our past," he notes. "But, this bird also teaches that we must not dwell on our past; we need to move forward."
As the Apostle Paul said in the Book of Philippians, "But one thing I do: Forgetting what is behind and straining toward what is ahead, I press on toward the goal to win the prize for which God has called me heavenward in Christ Jesus."
"When the hummingbird hovers over flowers while drinking nectar, we learn that we should savor each moment, and appreciate the things we love," David says.
David also notes that in the South American Andes the hummingbird is considered a symbol of resurrection. "It seems to die on cold nights, but comes back to life again at sunrise."
When Jesus went to the tomb of Lazarus, he said, "I am the resurrection and the life. He who believes in me will live, even though he dies; and whoever lives and believes in me will never die. Do you believe this?"
David doesn't believe these unusual signs after his wife's passing could simply be by chance. "We are at peace that her spirit lives on."