By Jeremy Reynalds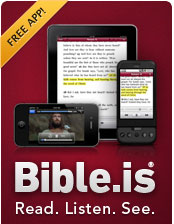 Bible.is – the free Bible app created by the ministry Faith Comes by Hearing (FCBH) – continues to grow in influence.
The app is capable of providing access to God's Word to over two-thirds of the world's population, according to FCBH.
FCBH  is continuing its mission of using Audio Bibles to reach the half of the world's population who cannot read. Now the app is "localized," or operates, in more than a dozen of the world's largest languages.
The localized apps now available on iPhone, iPad and all mobile Android devices are: Arabic, Chinese (Simplified), Chinese (Traditional), Dutch, English, French, Indonesian, Italian, Javanese, Latin, Portuguese, Russian, Spanish, Urdu and Vietnamese. Combined, FCBH said, these languages represent 2.65 billion people.
Of course, every localized version also offers access to Bibles in over 600 languages, which are spoken by over 5 billion people in more than 185 countries!
"The impact of this technology on Great Commission work is truly immeasurable," said Troy Carl, FCBH's vice president and architect of the ministry's move into digital technology.
"Never before in history has there been this kind of instant and immediate access to God's Word across so many languages," continued Carl.  "Mobile technology and Internet access, combined with apps like Bible.is, have given every believer the power to become a missionary virtually whenever and wherever they are on the planet."
As greater worldwide connectivity is being created and more people are gaining access to smartphones and similar mobile devices, the ministry sees this technology as a path to completing the Great Commission – potentially within this generation.
"In the next few years, there won't be anywhere on earth that doesn't have some level of (Internet) access," Carl said.
He concluded, "Which means they will have access to the life-changing Word of God – and most likely in their own heart language."
Established in 1972, Faith Comes By Hearing is celebrating its 40th year in ministry throughout 2012. In addition to the Bible.is app, the ministry provides free access to Audio Scripture through streaming on its website, via podcasts in its iTunes store and downloads on its Bible.is site.
For more information go to www.fcbh.org