By Mark Ellis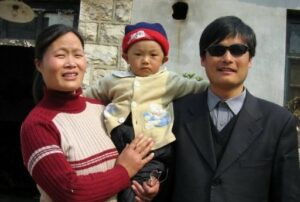 In an effort to wash their hands of a messy diplomatic dilemma on the eve of important talks, officials in the U.S. Embassy in Beijing hid the news from a blind human rights activist and abandoned him at a hospital where he will be at the mercy of government officials.
Chen Guangcheng, 40, who infuriated the Chinese government by publicly opposing their forced abortion and sterilization policies, fled to the U.S. Embassy nearly a week ago after escaping house arrest.
Following tense diplomatic negotiations, Chen walked out of the embassy accompanied by U.S.officials.  But after he got to his room in Chaoyang Hospital, no U.S. officials stayed behind and his family now fears for their lives, according to a CNN report.
If Chen had stayed at the embassy, the standoff  threatened to disrupt annual U.S.-China strategic talks with U.S. Secretary of State Hillary Clinton starting Thursday.
Stan Grant at CNN spoke to Chen by phone in his hospital room at approximately 2:30 a.m. local time, after an exhausting day that took an emotional toll on the blind activist.
"He says he feels he's been let down by the United States," Grant reported. "While he was in the U.S. Embassy he was not given the full story. He was cut off from the news and he was encouraged to leave."
After Chen arrived at the hospital and met his wife, she told him what happened to her since he fled. The guards who kept her under house arrest took her away, tied her to a chair and interrogated her. They said they would be waiting for them with weapons when they return to Chen's home.
During his house arrest, he was beaten repeatedly by communist officials. His wife and mother were also beaten. When Chen protested his treatment, his guards scoffed at him, saying they were above the law.
"Chen told me very clearly that if he stays in China he fears for his life," Grant reported. Initially Chen wanted to stay in the country, based on assurances made by the Chinese government to the United States that he would be able to leave the embassy as a free man.
Under the agreement that ended the standoff, U.S.officials said China agreed to let Chen and his family relocate to a safe place in China where he could study law at university, and that his harsh treatment by communist officials while under house arrest would be investigated.
Clinton said she was "pleased" that the U.S.was able to arrange for activist Chen's "stay and departure from the U.S. Embassy in a way that reflected his choices and our values."
Chen now realizes he was duped by officials eager to wash their hands of the messy affair. Now Chen wants to leave China as soon as possible, and has made an appeal directly to President Obama.
If Chen stays in China, he will not live, he told Grant at CNN. "As far as his wife is concerned, she says this is not a country she wants to bring her children up in. She feels they no longer have a future here."
"The US was insisting that he was happy to leave. The US was insisting that this was a deal that they would monitor and he would have a safe future in this country. He is now disputing that and says the US let him down," according to Grant at CNN.
Story of his escape
In the months leading up to Chen's escape from house arrest, he pretended to be sick, unable to move from his bed. "He spent hours on his bed pretending to be ill. His captors dropped their guard. They thought he was no threat to them," Chen told Grant in the phone interview.
"He listened to his guards' movements outside at night. He worked out their movements, when they would go and come back, when they were around. When he saw his moment under cover of darkness, he made a run for it."
Incredibly, the blind activist scaled several walls alone, traveled over uneven terrain, fell repeatedly, before he crossed a river. After several hours, he met a friend at a prearranged rendezvous point, who drove him to Beijing and ultimately to the US Embassy.
"It was several days before the guards actually realized he left. That's when the crackdown started against his wife," Chen told Grant.
"He wished the people at the embassy had been more honest with him."