By Mark Ellis —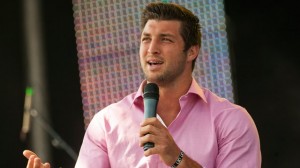 Timothy Tebow played three seasons in the NFL as a quarterback for the Denver Broncos and the New York Jets. He also played college football at Florida where he became the first sophomore to win the Heisman Trophy and led his team to two National Championship victories.
In 2012, as many as 20,000 people sat outdoors on a sunny Resurrection Day at "Easter on the Hill" organized by Pastor Joe Champion of Celebration Church, located in Georgetown, 15 miles north of Austin.
In an interview-style format with Pastor Champion, Tebow recounted his journey of faith, kindled by the Holy Spirit at a young age. "I still remember when I was a little boy lying in my bed," he said. "I had been to church and I had been to devotionals and all sorts of things," he recalled.
"It was the first time that I realized in my life that if I got in a car the next morning and I drove and got in a crash and died, I really believed I was going to die and go to hell."
This sobering reality pierced his young heart and mind. "I couldn't sleep that night," he admitted.
After tossing and turning in the darkness, he got up at dawn and bolted to his parents' room. "I grabbed my mom and said, 'I want to ask Jesus into my heart!'
Mother and son walked to the living room, then Tim got down on his knees and asked Jesus to be his Savior and Lord. "I know from that moment on I went from darkness to light and my eternity was sealed because I had a relationship with Jesus Christ," he declared before the crowd.
"He came in and forgave my sins and I was so thankful for that. My life was eternally changed and I am eternally grateful."
It doesn't matter whether you're young or old, or consider yourself a good person or a terrible person. "You don't have to be perfect because you never will be," Tebow told Pastor Chanpion. "Jesus says to 'Come as you are, however you are.'
"He wants to have relationship with you and He will begin a work in your life. Jesus Christ is perfect. He died on the cross for or sins and He rose again. Because He has the power to defeat death, He has the power to give you eternal life."
No one can "earn" heaven through their good deeds. "Jesus is offering it (eternal life) to you as a free gift," Tebow noted. "That means you can't work for it; you can't pay for it; you can't be good enough for it."
"The only thing you can do is accept it," just as one receives and opens a gift. "When you have a relationship with Christ and you know He has a plan for your life it gives you peace in everything."
If you want to personally know God, go here