BY JOHN JALSEVAC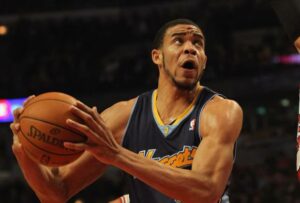 One of America's brightest young basketball stars almost wasn't born, after his mother was scheduled to have him aborted. But a last minute prayer – and a timely answer from God – spared the life of Javale McGee, who has gone on to play for the Washington Wizards, and currently, the Denver Nuggets.
The story of Javale's near-brush with abortion made its unlikely appearance this week in Sports Illustrated magazine.
According to the magazine, it was the spring of 1987 when professional basketball player Pamela McGee "sat on the shore at Dockweiler State Beach in Los Angeles, 72 hours from a scheduled abortion."
The story continues: "'Do you want to be pregnant?' the counselor at the clinic had asked her. 'No,' McGee replied."
At the time McGee was 24-years-old, and was unable to take maternity leave: not to mention that the logistics of weaving a baby into her busy sports schedule was daunting in the extreme.
But as McGee looked out over the Pacific, she began to reconsider. "I prayed and prayed and prayed and felt like I heard a voice from God," McGee says. "He was telling me, 'This is your gift.' " The next day she went to Faithful Central Bible Church in Inglewood, and the pastor delivered a sermon about not aborting one's blessings. O.K., God, McGee thought. You don't have to beat it into my head. She called the clinic to cancel, and on Jan. 19, 1988, gave birth to a boy with physical abilities that would border on the supernatural.
The story explains that Javale's mother continued with her sports career, traveling around the world with him, and homeschooling him while on the road.
It also describes one day when Javale and his mother returned to the very same church where she heard the sermon that gave her the strength to give birth to her son.
The day after last year's dunk contest in L.A., JaVale called his mother at 8 a.m. and told her he wanted to go to church. Pamela was exhausted, with only five hours sleep, and surprised. But she knew just the place. During the sermon at Faithful Central Bible, JaVale looked over at his mom, tears streaking her cheeks. "Why are you crying?" he asked. There, for the first time, Pamela told him about the clinic and the beach and the reason she cannot get all that upset about alley-oops gone awry. "For me," she told her son, "you've been such a blessing." — LifeSiteNews