By Mark Ellis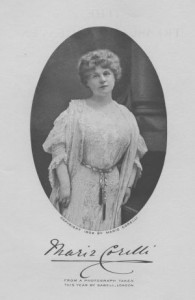 In her day, British writer Marie Corelli's books sold more copies than Kipling, H.G. Wells, and Arthur Conan Doyle combined. She was QueenVictoria's favorite novelist, yet her books are largely forgotten today.
Corelli was the illegitimate daughter of a Scottish poet, who sent her to a convent in Paris at age 11 to further her education. She never married, which led to rumors about Corelli's eccentric lifestyle. Her misplaced attempts to reconcile Christianity with eastern religions makes her an precursor of some modern spiritual movements.
But her religious education left its mark, as she issued this stern warning in the frontispiece of her book "The Mighty Atom," written in 1896:
TO
THOSE SELF-STYLED "PROGRESSIVISTS,"
WHO BY PRECEPT AND EXAMPLE
ASSIST THE INFAMOUS
CAUSE OF
EDUCATION WITHOUT RELIGION
AND WHO, BY PROMOTING THE IDEA, BORROWED FROM
FRENCH ATHEISM, OF DENYING TO THE
CHILDREN IN BOARD-SCHOOLS
AND ELSEWHERE,
THE KNOWLEDGE AND LOVE OF GOD
AS THE TRUE FOUNDATION OF NOBLE
LIVING,
ARE GUILTY
OF A WORSE CRIME THAN MURDER.
In two famous cases in 1962 and 1963, the U.S. Supreme Court ruled that prayers, devotional Bible reading, and other government-sponsored religious activities in public schools are unconstitutional.
Many have charted the precipitous cultural decline since the early 1960s in a host of indicators such as teen pregnancies, out-of-wedlock births, drug use, teen suicide, rape and other violent crimes.
It would be difficult to argue that America's social slide is entirely related to the removal of God from the schools. Certainly powerful messaging coming from television, films, music and other elements of popular culture propelled the decline.
Yet a triumph of "French atheism" in America's public schools is hard to deny, and the absence of the knowledge and love of God nearly complete.
Marie Corelli had no way of knowing about the rise of school shootings – crimes of actual murder. But in her mind's eye, the removal of God meant the denial of any foundation for noble living, a crime even worse than murder.