By Chris Pick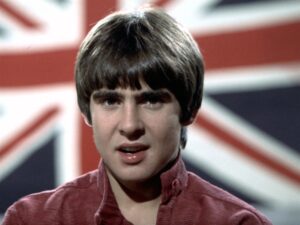 On Wednesday, February 29, 2012, former Monkee and teen sensation Davy Jones passed away from what is believed to have been a heart attack at the age of 66 — 66, the same year he and his band surfaced to the music charts with their first #1 hit "Last Train To Clarksville".
Besides having been a fan since the age of four (having grown up with The Monkees – with the re-runs, that is), I have been involved with several projects for Jones over the last fifteen years: from writing music reviews, to tracking down recordings for compilations, researching info for liner notes, to even running his merchandise table at his concerts.
Davy Jones was very warm, caring, and generous – just like his character on the show. That being said, you could also say his character wasn't always an act. He would even give away the clothes off his back – I know, because I saw him do that for a fan who commented on his sweater (thank goodness he had a T shirt on underneath).
And for those who knew him, there was always another side of Davy that many fans never got to see.his love of family and especially his love of God! And I felt it only fitting to share some of this as my way of saying goodbye to a talented man that I'll deeply miss.
As a private man who had become very public, Jones' music reflected his personal life and, to an extent, spiritual life. One of his most popular Monkees' songs is from the first album, "I Wanna Be Free." This non single was a signature hit for him in 1966. The song accurately described his life as a Monkee.
We can all relate to the lyrics…we all yearn to be free at times. At first listen it seems to be a simplistic lament from a young person being bruised by hard choices. But the gentle melody probes man's basic questions about meaning and self-validation in an overwhelming universe. Freedom, in this instance, could mean new birth. "I Wanna Be Free" may not be fodder for Philosophy 101, but the lyrics pose part of the Everyman's perennial chase for personal liberation. The song would haunt Jones-the-Monkee for years to come.
Twenty-five years later, Jones, along with long-time friend Alan Green, recorded the personal evergreen "Free (The Greatest Story Ever Told)." The lyrics were a logical sequel to "I Wanna be Free." The song was a vivid description of David's career, lacing levity with a spiritual sentiment: "All my life is just a stage I'm going through/The director has set the scene for me and you/and we must act accordingly/All I know, this is the greatest story ever told, and we never grow old. We just pan away and fade to light…"
Christian ethics and references had been a constant thread in Jones's life-from his Sunday School plays to his "Pre Fab Four" days. He was well-acquainted with the moralistic tales of Charles Dickens. When Jones was in his storytelling mood he would tell how his youth revolved around the church. His family was poor, and the church became the center for community and recreation. And The Monkees showed direct reverence for Jesus in their music and in their television show.
In 1967, they recorded Riu Chiu (the 16th century Spanish hymn) for their Christmas episode. Just like The Beatles, The Byrds, Simon & Garfunkel, and all the other youth-oriented music acts of the time, The Monkees made it OK to have a relevant thought about God and incorporate it into their music. But not just in the music.
In the Monkees episode "The Devil and Peter Tork," Peter Tork sells his soul to Mr. Zero (aka The Devil) in exchange for the gift of music. As expected, the other three Monkees come to Peter's rescue. The four Monkees and Mr. Zero end up in the Devil's courtroom. Davy, holding The Bible, addresses the judge and jury saying "Can I interest anybody in taking a quick peek at this Book here? It's been on the best-seller list for many years." The episode ends with Michael Nesmith giving a powerful speech on LOVE. This episode should've won The Monkees another Emmy!
After the Monkee experience ended in 1970, Jones walked his own path of recording and writing. Unbeknownst to many, Jones originally intended to release what could've been a redefining production. It was to be an acoustic guitar-oriented collection of his originals and choice covers by Bob Dylan, Paul McCartney, Harry Nilsson and Randy Newman (a perennially hip source of songwriters then and now). When Jones recorded James Taylor's "Fire and Rain," he sang these lines with obvious conviction of the moment: "Won't you look down upon me Jesus, you've got to help me make a stand."
But at the time, his record company, who apparently wasn't interested in artistic liberty or Jesus, rejected his master. They then cornered Jones (who was under contract) into a formulaic album that prolonged his status as a "poster boy." One of the more listenable tracks from the album, "Rainy Jane," (recalling strains of Beatles and Turtles) was a minor hit single in the U.S. However, his appearance on THE BRADY BUNCH television show that same year (in which Davy sang "Girl," another hit that was never a single) made Jones a "teen idol" all over again!
Jones experimented with new sounds in the 70s-including country (he was a fan of country music), with songs like "Rainbows" and "You Don't Have To Be A Country Boy, To Sing A Country Song" (co-written with Tommy Boyce, who was one of many great songwriters in The Monkees music catalog). He worked in a range of theatrical shows, including the role of Jesus Christ in GODSPELL.
Years later, Jones teamed up with long-time friend Chip Douglas, producer of his signature Monkees' hit "Daydream Believer." At Douglas' project studio in Hilo, Hawaii they created IT'S CHRISTMAS TIME AGAIN, released in December 1991. The climate influenced the material; Jones recorded Mele Kalikimaka, a traditional Hawaiian Christmas song with an added verse by Douglas. The album included familiar Christmas classics ("White Christmas," "Rudolph The Red-nosed Reindeer") and hymns ("Hark The Herald Angels Sing," "God Rest Ye Merry Gentlemen").
Of particular note is Davy's narration of the Ten Commandments over the music bed of "Silent Night." The single "When I Look Back on Christmas" contained additional lyrics by David's then-wife Anita. The sense of Jesus being "the reason for the season" was emphasized on this album.
On October 31, 1993, Jones performed two full sets at the Four Queens in Las Vegas-released on video (through Hercules Promotions) in 1994 as DAVY JONES LIVE IN LAS VEGAS. While staying in the tinsel town Jones had attended a Catholic Church service. He shared with his audience what he had learned about his faith in regards to being a musical performer.
Jones mentioned that the priest had told his congregation that (before passing on) "you" must go off to a "monastery, or to a retreat or someplace, for three or four days to prepare…to go to wherever you're going to go when you go…(and) the first thing they do when you get there is tell you how much you sinned, whether you have or not. So I thought about it, and I just realized that THIS (pointing to the audience) is my monastery…this is my retreat, THE STAGE! So, I come up (here) and get myself prepared, for tomorrow, the next day, next week, or whatever it might be…and THIS is my retreat!"
Between 1994 and 1996 Jones got together with producer Johnny J. Blair to assemble JUST FOR THE RECORD, a 4-volume box set that encompassed Jones's musical career from 1962 to 1996.
Around this time David and Anita were going through a divorce. His feelings about the imminent break-up came through in the songs "Couldn't Have Been Love" and "It's Not Too Late"-with lyrics aspiring for a resolution between male and female. Jones later said, "You could take this as a gospel message. There are many ships in life heading the wrong way. They could all be turned around and put right with forgiveness and love."
Jones headlined the 1999 Holiday Spectacular at the Hershey Park Arena (Hershey PA). Also on the bill were The Tokens, Johnny Maestro & The Brooklyn Bridge, and Gary Puckett. Early in the evening, Puckett gave a testimony at the end of his set, telling the audience he has a close, personal friend in Jesus and "…will someday be in Heaven!"
Half way through the show, Jones invited gospel singers Monette Newsuan, Cassie Blair, Deb Wilson, and Linda Wheatley (from a local church in central Pennsylvania) to help him sing "When All Else Fails" (originally recorded in 1994 by Australian pop hero John Farnham). Lyrically the song expresses a transparency which translates into a variety of situations (emotional, romantic, and spiritual).
After singing "When All Else Fails," Jones & the lady gospel singers performed the Monkees' classic "I'm A Believer." Then, David turned the stage over to the ladies by saying, "Hey listen, I couldn't let this evening go by without letting ya know…the young ladies over here…and I don't use the term loosely either…[laughing]…a couple of weeks ago, I was in church in Williamsport and I was very moved by one of the things that happened there. It was actually a women's meeting…[laughing]…I went because it was a women's meeting…[looking over at the ladies]…sorry about that, but…[still laughing with the fans]…No, I went there to hear them sing, because…you know sometimes…sometimes a good ole SING/SONG gets ya goin' and it makes you feel good. And not wanting to lay anything on you that I wouldn't enjoy myself…and knowing you like I do, I'd like to share
this little tune with ya!"
He turned the microphone over to Monette, a singer-songwriter that has collaborated with Blair. She led the ladies (along with Davy) into "Satan, We've Come to Tear Your Kingdom Down," a gospel standard (composer unknown) that has been recorded by numerous artists (including Shirley Caeser). A studio version of the song appeared on Newsuan's follow-up album, with an endorsement liner note by Davy.
He later recorded "When All Else Fails" for his second JUSTME project.
Songs such as "When All Else Fails," remastered CDs of his 70s and 80s singles, the INCREDIBLE album (what I was once quoted as saying "the greatest album of his career!"), rare 80s live sets, his Pennsylvania recordings, and much more can be found on Jones's BANDCAMP page www.davyjones.bandcamp.com
Unfortunately, one of his unrecorded written songs, "My Heart Belongs to the Lord," (which I had hoped would surface from the studio one day) is a now a lost gem.
We'll miss you Davy! And, just as you sang on what may be regarded as your greatest composition, we'll "Love You Forever!" You're finally free!
For information on Davy Jones, contact: www.davyjones.net.
——————————————————————————–
Christopher Pick is a singer/songwriter; missionary; and advocate for the Persecuted Church and Native Missionary Movement. He has been involved with several mission projects which have included work in South America, Africa, Asia, and even North America (ministering among the Lakota Sioux at the Pine Ridge Indian Reservation in South Dakota). As a singer/songwriter, Pick's music has been heard globally and charted on many continents in both mainstream, adult contemporary, and Christian. Pick resides in Williamsport, PA along with his wife Michelle (a Fifth Grade teacher in Central PA). You can contact him at [email protected] or follow Pick on Facebook www.facebook.com/pages/Chris-Pick-fan-page/310118944421,
Twitter www.twitter.com/pickchris, MySpace www.myspace.com/pickmusic, or Reverb Nation www.reverbnation.com/chrispick