One daughter survives, but may be deported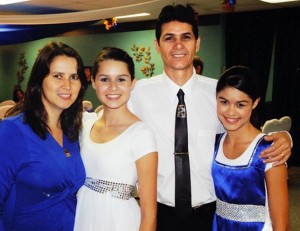 A pastor, his wife, and teenage daughter were among the 10 people killed in a massive highway pileup in Florida.
International Church of the Restoration's Pastor Jose Carmo, Jr. and his family were returning from a religious conference when their vans collided with several cars, six tractor-trailers, and a motorhome on I-75 near Gainesville, Sunday. Daughter Lidiane Carmo, 14, was the lone survivor in the family. She moved to the United States from Brazil with her family 12 years ago. They were all undocumented.
Restoration's senior pastor, who had opted to delay his departure until the next morning, said Carmo had wanted to be back in time for the suburban-Atlanta church's Sunday morning service.
"We couldn't have imagined such tragedy would come to us," Senior Pastor Arao Amazonas said.
The accident was the deadliest crash on an American highway in 20 years.
Jose, his wife, Adriana, 39; and their oldest daughter, Leticia, 17, all of Kennesaw, Ga., died early Sunday in the string of collisions along Interstate 75 in a dense fog mixed with smoke from a marsh fire. Carmo's brother, Edsom, 38, and his girlfriend, Rose DeSilva, 41, also died.
Lidiane remains in a Gainesville hospital with serious injuries. She was told Tuesday that her immediate family had died.
"I hope that she lives here with us," said Marcia Silvia, one of the crash survivors and a member of the church. "The church is her family now. I hope that she stays here."
"She doesn't know Brazil. She barely knows Portuguese," the church's senior pastor, Arao Amazonas, said about Lidiane to CNN on Wednesday. "She speaks English like an American." She is a freshman at Sprayberry High School here; her sister was a junior. — by Jon Shirek, WXIA-TV, Atlanta, compiled with a report by CBN