By Mark Ellis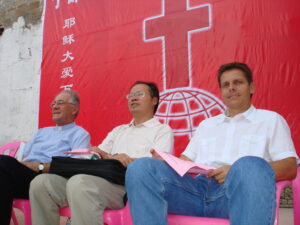 While we hear frequent reports about the underground house church movement in China, especially many of the hardships they face due to their resistance to government control, it may surprise some to realize there is life in the registered, "above ground" church, officially known as the Three -self Patriotic Movement.
China Partner serves the registered church in China "above board and legally" by supplying Christian literature, pastoral training, and forging partnerships to build the church.
Erik Burklin, president of China Partner, recently returned from China, where he worked with several pastors currently seeing God's hand at work in significant ways. Rev. Zhao and his wife graduated from Sichuan Theological Seminary in 1995  and came to Yibin city to serve the local church.
When they arrived, there was one church building and one meeting point (two ecclesias); today there are 18 churches. Yibin had 200 believers when they started to minister in that city; today there are over 4,000.
In 2011 he and his wife baptized over 100 new converts; the church has seen tremendous growth during their ministry.
He believes that the Chinese church will experience a big revival within the next few years. They invited China Partner to return in 2013 for further trainings specifically in the area of marriage/family and children's ministries.
Rev. Guo and his wife graduated from the theological seminary in Wuhan in 2003. They have a vision of building a 10,000-member church. Rev. Guo's wife is a fourth generation Christian whose grandfather also served as a church pastor.
They are both in their early 40's and have a passion for evangelism; the last two years they conducted special evangelistic meetings in their city, renting a local hotel ballroom. During the meetings Rev. Guo gave a clear presentation of the Gospel, after which 30 and 60 people (respectively) accepted Jesus Christ as their personal Savior.
Last year he baptized over 200 new converts. They also have a passion for training their church leadership and surrounding lay pastors; this was China Partner's second time to conduct pastoral training at their church. Over 160 leaders attended. Rev. Guo invited China Partner to return in 2013 to help him train more leaders.
On this recent ministry trip in China, China Partner trained over 190 church leaders and pastors with practical ministry tools in pastoral care and Bible study methods and passed out 2,440 theological study books.
Sichuan Theological Seminary is part of a regional seminary formed by the Christian Council/Three-self Patriotic Movement Committee of three provinces and one municipality including Sichuan, Yunnan, Guizhou, and Chongqing. Since its founding in 1984, the aim of the seminary is to "train clergies who love their country and church, adhere to the Three-self principle, have scholarly attainment on theology, excel in virtue, and can lead the church and congregation in the faith, " according to their website.
In 2010, 589 students graduated from the school. The curriculum includes 70% religious courses and 30% general courses. Courses in English and NT Greek are available.