By Mark Ellis —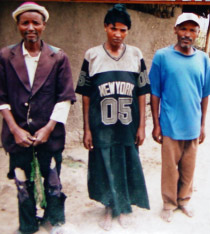 Her Muslim neighbors and relatives grieved the loss of this relatively young mother of nine children. But after mourning her death for 12 hours, God brought a miracle that touched many lives.
"This is one of the most unusual and dramatic testimonies we've ever recorded in our AIMS ministry," says Dr. Howard Foltz, president and founder of AIMS. "It all started when a man named Warsa got saved and then God spoke to him that he would be used by God to see the dead raised."
Trained as a missionary by AIMS, Warsa was already reaching many Muslims with the good news about Jesus Christ. Then one of women in his village became ill.
"For two months I was very seriously sick," says Fatuma Shubisa.  Fatuma grew up in a Muslim home, but she and her husband converted to Christianity.
One day Fatuma's mother came to visit her ailing daughter was shocked to find her lying motionless and unresponsive. She searched in vain for a pulse or heartbeat, but Fatuma's body was already cold.
She closed Fatuma's eyes and straightened her leg. Unable to control her grief, she began to wail, and her sheiks aroused many of her Muslim neighbors who gathered in and around the home. They too began to grieve.
At the moment Fatuma died, her soul left her body and she was drawn up to heaven. The first person she met was her brother-in-law, who died two years earlier.
"That brother of my husband took my hand and led me away," she recalls. As her former home on earth receded like "an open ditch," heaven opened to her.
"I went to a place where everyone was dressed in gold," Fatuma says. "I looked at the earth as very dirty." In heaven, she felt "free and clean."
Fatuma also met her mother-in-law in heaven. "She was begging them to send me back so I could raise my children," she recalls.
Meanwhile, a missionary named Warsa Buta was walking nearby and saw the crowd gathered around Fatuma's home. When he learned of her passing, he went inside and began to pray.
Some wondered why he prayed, since she had already been dead 12 hours. When he heard the murmuring, he persisted in prayer, because he remembered the promise God gave him as a young believer, that he would be used in such a time as this. Could this be the day?
"I had faith the Lord would work through me," Warsa says. "I prayed as Peter prayed, 'Fatuma, be raised…I ask you in the name of the Lord, come to life…
"Fatuma, be raised in the name of Jesus!"
Suddenly, Fatuma sat up in the bed, as everyone gasped in astonishment.
"I found myself in my body," Fatuma recalls. "I said, 'What is this? What's happening? What is going on?'
Most of those around her were speechless. "Can he call back a dead person – a dead soul to a body?" someone asked.
"If this is real, we will all become Christians," one man said. "Your God is a very powerful God!" another shouted.
Many believed in the Lord Jesus that day and there was great rejoicing in Fatuma's village. She is convinced she knows the reason for her return.
"I came back because it was the will of God for me to live with my children, but I would be very happy to go back there," she notes. "Now I have seen when a Christian dies he goes to a better place and his body goes back to dust. For a nonbeliever, that (hell) is a place of sadness. But when a Christian dies he goes to a place where everything is good, where everyone is happy."
Dr. Howard Foltz  believes God will use powerful testimonies like Fatuma's to provide breakthroughs among unreached people groups. "Our goal is to see all the remaining 35 unreached people groups of Ethiopia reached with the gospel of Jesus Christ," he says.  Dr. Foltz notes that Fatuma's miracle was also reported on by The 700 Club.
Do you want to know God personally? Click here