By Tim Ellsworth —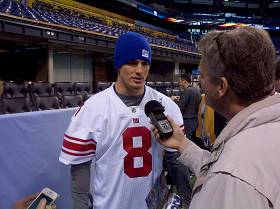 You could forgive David Carr if he happened to be bitter about football.
The first overall pick in the 2002 NFL draft by the Houston Texans, Carr seemed headed for NFL success after starring at Fresno State University. He spent five years with the team — much of it on his back, thanks to a woeful offensive line — when the Texans decided they were no longer interested in his services.

New York Giants backup quarterback David Carr, speaking to a reporter at Tuesday's Super Bowl media day, has persevered through a bumpy NFL career, rooted in his faith in Christ.
Since then, Carr has mainly been relegated to a backup role with the Carolina Panthers, the New York Giants, the San Francisco 49ers and now the Giants again behind Eli Manning. Sports Illustrated included Carr in a list of "top draft busts of the modern era." What looked like a promising career has turned into something that Carr wouldn't have chosen.
But talk to him, and "bitter" as a description isn't even on the radar. He's positive, happy, motivated — and thrilled to be at his first Super Bowl, even if it's unlikely that he'll take a single snap.
"For me to be in this position, it's truly blessed," Carr said during Tuesday's media day at Lucas Oil Stadium, site of Sunday's matchup between the Giants and the New England Patriots.
"There are so many players that either never made it to this game or never won this game. You've got to understand the situation you're in and take advantage of it. It's a very exciting time."
For Carr, it's his faith in Jesus Christ that defines him and gives him the positive attitude about his role with the team, however big or small it may be.
"The most important thing for me is my relationship with Jesus Christ and how it's carried me through my entire football career," Carr said. "You look at a lot of people that I grew up playing with, a lot of people that I played against — a lot of those guys aren't playing football anymore. A lot of those guys are doing other things, or they've been hurt, or the game passed them by."
Carr, who retired from the NFL in 2013, says he's grateful for having had the opportunity to compete.
"That's what drives me — take advantage of every moment, because you never know when the last one's going to be," he said.
Growing up in California, Carr was the grandson of a pastor. Church was a regular part of his life — so much a part of it, in fact, that he says he regularly did his homework in the pews. His conversion came at age 12 during a church camp when he gave his heart to the Lord.
"From then on it became my relationship, not just my grandfather's relationship with the Lord," Carr said. "That was an important time in my life."
His walk with the Lord carried him through success in high school and college and into the NFL. And following his retirement, Carr continues trusting in God through the ups and downs of life.
"Tomorrow we don't know what's going to happen, but God does," he said. "He's already ordained our life and set it before us. We have an opportunity to go out and be the best that we can be for Him."
Do you want to know God personally? Click here to find peace with God
Tim Ellsworth, editor of BPSports www.bpsports.net, traveled to Indianapolis for the Super Bowl media day on Tuesday (Jan. 31) at the Lucas Oil Stadium, site of Sunday's matchup between the New England Patriots and New York Giants. To access yesterday's story from media day on New England Patriots special teams captain Matthew Slater, who recounts the spiritual influence of his NFL Hall of Famer father Jackie Slater, go to http://www.bpnews.net/BPnews.asp?ID=37088. Ellsworth, in addition to his BPSports work, is director of news and media relations at Union University in Jackson, Tenn. Get Baptist Press headlines and breaking news on Twitter (@BaptistPress), Facebook (Facebook.com/BaptistPress) and in your email (baptistpress.com/SubscribeBP.asp).