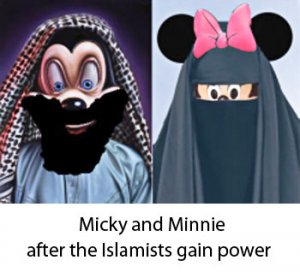 Christian telecom mogul Naguib Sawiris was scheduled to appear in court tomorrow after being charged for "blasphemy and insulting Islam" on Monday for reposting a cartoon of a bearded Mickey Mouse and a veiled Minnie Mouse on Twitter.
Sawiris' lawyer wrote in a press statement on Thursday that Cairo's District Attorney has yet to set a trial date, according to the Egyptian daily Al-Ahram.
Among the group of Islamist lawyers who filed the lawsuit against Sawiris was Mamdouh Ismail, a former member of Islamic Jihad who has been known to represent accused terrorists and was himself arrested for complicity with al-Qaeda.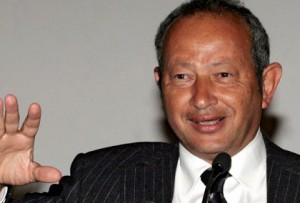 The Muslim Brotherhood, who is set to win more than forty percent of the votes in Egypt's parliamentary elections, joined the ultraconservative Salafists in backing Ismail's lawsuit and led a nationwide campaign to boycott products and services offered by Sawiris' companies. Many Egyptian Christians and liberals believe Islamists rallied the nationwide outcry to discredit Sawiris and his secular Free Egyptians Party.
"Sawiris is one of the biggest supporters of the Egyptian liberal parties," Wagih Yacoub, a Coptic human rights activist, told ICC. "What the Islamists are trying to do is break him down. They are trying to scare him. This type of news will hurt him in Egypt. The [Muslim] Brotherhood is among those behind the war on Sawiris."
In response to the heated reaction, Sawiris later tweeted, "I apologise for those who don't take this as a joke, I just thought it was a funny picture; no disrespect meant. I am sorry."
Sawiris is a champion of secularism and has publicly opposed the rise of Islamic fundamentalism and the prospect that Islamists will draft a new constitution influenced by Sharia law. Sawiris' Free Egyptian Party, in alliance with secular political parties known as the Egyptian bloc, is expected to win nine percent of seats in Egypt's lower house of parliament.
"The Muslim Brotherhood has made efforts in recent months to tone down extremist rhetoric in order to reassure Egyptian liberals and Christians, as well as western nations, who fear that the Brotherhood's ideology and agenda is not consistent with democratic principles and human rights," said Aidan Clay, with International Christian Concern.
"However, the Brotherhood's support for Mamdouh Ismail, the Salafists, and other radicals in condemning Naguib Sawiris is one more example that any attempt made by the Brotherhood to appear moderate is merely a façade. Sadly, the voices of Egypt's secular-minded youth who ignited the country's revolution have not been heeded as Islamists rise to power and stomp on the very freedoms many revolutionaries had fought so dearly to defend." — International Christian Concern