By Mark Ellis
Quarterback Tim Tebow has become the miracle man in fourth-quarter comebacks for the Denver Broncos this season. But off the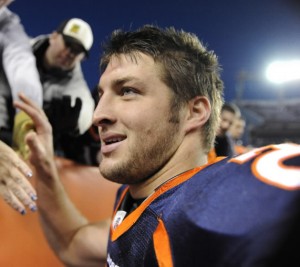 field, his foundation is partnering with CURE International to bring God's healing miracles into the lives of young people in the Philippines.
The Tim Tebow Foundation and CURE will build a 30-bed surgical facility for children focusing primarily on orthopedics on the island of Mindanao– an area that holds a particular interest for the Heisman trophy winner.
"I was born in the Philippines and my parents have been missionaries to that area since 1985," Tebow says. "The Philippines have always had a special place in my heart. I'm excited to be a part of this hospital that will bring healing to thousands of children who would not otherwise have access to care."
Groundbreaking for the facility in Davao City is set for January 2012 and it's expected to open in 2013. This is the first project between the two organizations since they announced their partnership in October. The relationship grew out of an informal conversation between Tebow's brother and CURE's new president at the Lausanne Congress last January.
The hospital is CURE's first in the Philippines and 12th worldwide. The construction project is expected to cost $3 million, with donors from CURE and the Tebow Foundation sharing the costs.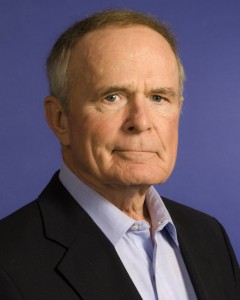 "We see what we do as an extension of Jesus' healing ministry," says Scott Worrall, vice-president of CURE. Physical and spiritual healing for children has always been a primary focus since the organization's founding in 1996 by orthopedic surgeon Dr. Scott Harrison and his wife Sally. "Their intention from the start was to value spiritual ministry along with medical care," Worrall notes.
CURE is the largest provider of reconstructive surgery to disabled children in the emerging world. "Jesus sent his first disciples out to heal the sick and proclaim thekingdomofGod, and that's what we do."
CURE has become a world leader in treating hydrocephalus, a condition in which fluid accumulates in the brain and causes a progressive enlargement of the head. It can sometimes cause mental disability and even death. At CURE's hospital in Uganda, they perform 600-800 hydrocephalus surgeries each year using an endoscopic procedure pioneered by Dr. Benjamin Warf.
The spiritual directors who minister at each of their hospitals also serve in management roles. "The spiritual director is not just a chaplain," Worrall explains, "but involved in business decisions as to how the hospital is run as part of the executive team."
In addition to talking and praying with patients and their families, chapel services are offered daily. "We're intentional about presenting the Gospel of Mark to people, but not in a coercive way," Worrall notes. "Patients are treated regardless of whether they want to hear."
CURE uses "Christianity Explored" materials that follow the Book of Mark. They also translate Mark into multiple languages using an electronic system called Mega Voice.
The goal at each of their 12 hospitals is to train nationals to manage every aspect of the hospitals themselves. "We have 1400 employees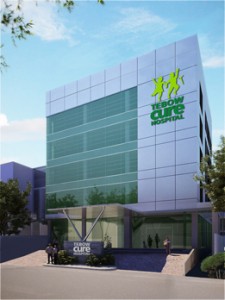 around the world and less than 75 are Westerners," Worrall says. Their first surgical teaching hospital in Kijabe, Kenya, which opened in 1998, is run entirely by Kenyans.
The hospital in the Philippines will include a "Timmy's Playroom," named for the Denver quarterback. "We have play rooms for kids in each one of our hospitals," Worrall says. "It's an opportunity for kids to be kids." The playrooms provide a place to talk about Jesus in a different setting with younger patients.
CURE's focus on bringing healing to developing nations has resulted in more than 1.5 million patient visits and over 121,000 surgeries to correct physically disabling conditions. CURE has also trained more than 2,400 medical professionals, raising the standard of care in the countries where it operates.