By Mark Ellis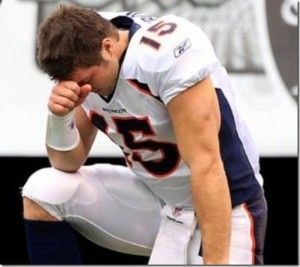 After a lackluster performance in the first three quarters of play, Quarterback Tim Tebow led the Denver Broncos to a come-from-behind win in overtime to beat Chicago 13-10.
After the game, Tebow – the son of missionaries in the Philippines– did not hesitate to place credit where credit is due. "First and foremost I have to thank my Lord and Savior Jesus Christ, and thank my teammates," he told Fox sports. "It's an unbelievable feeling."
Tebow has attracted his share of detractors who fault his skills as a quarterback and the boldness of his witness for Jesus Christ. But even the naysayers are beginning to believe in the miracle worker who has now won six straight. The Broncos are 7-1 since the team promoted Tebow to starting quarterback in October.
"You have something special when nothing is going right but you continue to believe and continue to get together and you encourage one another," he said. With two minutes remaining in the game, Denver was down by 10 points. In the first three quarters, Tebow had completed only three of 16 passes, an uninspiring display.
Yet in the clutch, as the clock ticked down to the final minutes, the heart of a champion and his abundant faith buoyed the team.
Tebow was aided by kicker Matt Prater's foot, as he crushed a 59-yard field goal to send the game into overtime.
There were also two improbable mistakes in the final minutes by Chicago's Marion Barber. He ran the ball out of bounds, which stopped the clock, a foolish error that aided Denver and helped send the game into overtime. Then he fumbled the ball during overtime, which paved the way for a field goal opportunity by Denver.
Kicker Matt Prater sailed a 51-yard field goal through the uprights to win the game.
"We're a team that keeps the faith and believes in each other," Tebow said. "We keep believing. We keep pushing. We keep fighting."
No other quarterback in NFL history has produced as many fourth-quarter comebacks as Tebow in his first NFL starts.
"If you believe, then unbelievable things can sometimes be possible," he said.
Tim Tebow's faoundation, in partnership with CURE International, is building a 30-bed children's surgical hospital in the Philippines.
Four steps to believe in God