By Mark Ellis
Three minutes in the 'waiting room' of heaven
He "cheated" death three times in his short life, but a rare heart condition finally sent him heaven bound on Christmas night at only 18-years-old. A video Ben recorded one week before his passing has gone viral and is bringing hope to many about eternity.
"I accepted Christ at age four and Ben also accepted Christ at age four," says Ally Breedlove, Ben's older sister. "Ben was never the type to evangelize or speak openly about his faith, but we always knew Ben believed in God and heaven and accepted Christ."
Ben suffered from hypertrophic cardiomyopathy, a life-threatening condition in which one part of the heart is thicker than the other parts, making it hard for the heart to pump blood adequately. "My parents were told when Ben was a baby that he might not live past his early teens," Ally says. "Sudden death is a very high risk and his episodes were getting more and more serious and more and more frequent," she notes.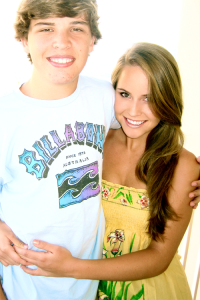 Despite all the warnings, Ben's sister hoped for a different outcome. "We chose not to believe he would pass away young; we wanted to believe he would live a long and happy life."
In the video posted to YouTube – viewed more than 2.3 million times, Ben said he cheated death during his previous health emergencies. Tragically his rare condition ultimately led to the fatal heart attack on Christmas. His video tells his story using hand-written note cards to describe a series of powerful visions.
His first near-death experience due to cardiac arrest came at age four, as he was being wheeled into the hospital. "There was a big bright light above me," he says on the video. "I couldn't make out what it was because it was so bright. I told my mom, 'Look at the bright light!' and pointed up.
"She said she didn't see anything," he notes in the video. "There were no lights on in this hall. I couldn't take my eyes off it and I couldn't help but smile."
Suddenly, a peace that passes all understanding enveloped the four-year-old. "I had no worries at all," Ben recalled, "like nothing else in the world mattered, and I kept smiling. I can't even describe how peaceful it was."
On December 6th , Ben passed out at school. During this episode, his heart stopped beating and he wasn't breathing for three minutes.EMS medics used shock pads to attempt to revive his heart.
"The next thing that happened – I'm not sure if it was a dream or a vision – but while I was still unconscious I was in this white room with no walls. It just went on and on," Ben said.
"There was no sound, but that same peaceful feeling I had when I was four," he noted.
Then something unusual happened, something he found difficult to explain afterward. His favorite rapper, Kid Cudi, greeted him in the ethereal setting. "I was wearing a really nice suit and so was my favorite rapper," Ben said. "Kid Cudi brought me to a glass desk and put his hand on my shoulder and my favorite song started playing, the one that says 'When will the fantasy end; when will heaven begin?'"
Then Kid Cudi turned to him and said, "Go now." At that moment, Ben awakened as theEMSmedics performed CPR.
"I didn't want to leave that place," he said. "I wish I never woke up."
At the end of Ben's YouTube video, he asks, "Do you believe in angels or God?" He then answers his own question by saying, "I do."
Ben's family did not discover the video until after his passing. "We were not aware he made this video, which was odd," Ally says. Usually, Ben informed the family about his video projects and elicited their ideas. However, this project was different.
Ben's friends started calling Ally Christmas night after they learned of his death. "There was a lot of confusion about the time he collapsed at school, so I thought I should get on Facebook and let his friends know what really happened."
When Ally turned on her computer in the early morning hours of December 26th, she was surprised. "I got on Facebook at 4:00 a.m. and it was everywhere," she says. "That was the first time I saw the video." It had 300 views before Ben's death, but went viral afterward.
Due to the timing of the video – posted one week before his passing – Ally believes he may have had a premonition. Normally, Ben was lighthearted, always joking with friends and family. "This was the first time he's done something that serious or sincere or intentional," she notes.
"It was hard for him to talk to us about it. He left it for us to find because he knew we would need that after he was gone."
Ally remembers one special evening when she stayed up late with Ben and discussed his vision. "He said he was in a white room with no walls and no ceiling. There was indescribably peace, the same thing he felt when he was four-years-old."
"He didn't know why his favorite rapper was in the dream with him," she says. "He thought it was because the specific lyrics spoke to him."
When Ben looked in the mirror in his vision, he felt more confident than he had ever felt in his life. The mirror also possessed an unusual quality not mentioned in the YouTube video. "The mirror was not just a reflection of himself. He was looking at his whole life."
As he stood at the side of rapper Kid Cudi, Ben felt like he was ready for something more important, perhaps a more important assignment on the other side of eternity. Kid Cudi turned to Ben and said, "Are you ready?"
"Yes," Ben replied.
"Go now," the rapper told him.
Afterward Ben struggled over whether he should call his experience a dream or a vision. "He didn't know what to call it," Ally notes. "He called it a dream but he was awake and it was very real."
"He thinks he was in the waiting room for heaven," she adds.
Ben's mother, Deanne, is currently reading the book "Heaven is for Real," but Ben never read it. Deanne points to one similarity between the two experiences: Ben and Colton Burpo said later they were eager to return to heaven some day, which parallels the Apostle Paul's view after a heavenly vision.
Some may be disappointed that Ben doesn't specifically identify Jesus in the video. "He doesn't mention Jesus' name in the video, but we know he accepted Christ and he did believe very strongly in Jesus," Ally notes.
Ally is proud of the legacy her brother left behind. "He was the biggest source of joy in our lives. He wanted to share the peace he felt with everyone. Ben was giving hope to people. He wants them to know there is more out there than just this life."
In a family Bible study on one Sunday morning when Ben felt too weak to attend church, he prayed for his family. "He prayed that we would not be sad or scared and that we would feel the same peace he felt from God."
If you want to find peace with God, click here