By KIM KYLE MORGAN, HOUSTON CHRONICLE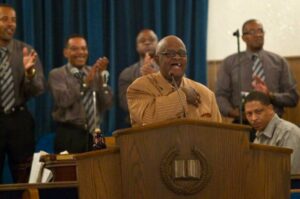 The Rev. Albert Williams stands in the pulpit at Salem Missionary Baptist Church, reading scripture from Psalm 103:1-4.
When Williams gets to the part that says, "Bless the Lord, O my soul, and forget not all his benefits, who forgives all your iniquities, who heals all your diseases," he pauses, perhaps temporarily lost in memories, but forever filled with thanks.
"With the grace of God," Williams said, "I was able to start talking again."
It took 11 months and 18 days.
It began in February 2010, when Williams learned that what he thought was a persistent case of acid reflux was actually laryngeal cancer.
After 35 rounds of radiation didn't put Williams in remission, he underwent a six-hour surgery, during which doctors discovered the tumors were so invasive, the only chance for a cure was to remove his entire voice box.
"It's really strange to wake up and find you can't speak," Williams said.
Resigned to a life of silence, Williams could no longer preach, but he continued to praise, sitting beside the pulpit instead of standing before it, mouthing the words to hymns, raising his hands in the air and moving to the music.
"That was the hardest thing, not being able to preach or sing," Williams said. "I had some really bad days. Sometimes I wanted to walk out. But God didn't let me, and I knew he would supply what was needed."
In this case, it was Dr. Ron Karni, a board-certified otorhinolaryngologist at Memorial Hermann-Texas Medical Center and assistant professor in the department of Otorhinolaryngology-Head and Neck Surgery at The University of Texas Health Science Center at University of Texas Health Science Center.
Even though Karni was the surgeon who took Williams' voice away, he would also be the surgeon to give it back.
Nearly a year after the first operation, Karni took Williams into the operating room again for a tracheoesophageal puncture, during which Karni made a new opening between Williams' airway and throat.
Even without vocal cords, all Williams has to do to talk is hold his finger over the small opening in the middle front of his neck. Air is forced back, up and out of his throat, allowing him to make sound – his own sound, not an electronic version.
"Some people have good results, some people have OK results," Karni said. "Reverend Williams' results were fantastic."
It's a case Karni will never forget.
"He uses his voice in such an important way," Karni said. "It's very impressive to hear him talk now. That's the sound of him being blessed by God."
Wanting to hear Williams at the pulpit for himself, Karni recently attended a service at Williams' church. He quietly slid into a back pew, but it wasn't long before Williams spotted him. Filled with emotion, Williams told the congregation what he believed all along.
"I know God sent him," said Williams, pointing Karni out to his church brothers and sisters. "I consider him more than my doctor. He's my friend."
Williams, cancer free, will celebrate his 70th birthday Dec. 4.
Answering the call
Williams' wife of eight years, Mary Louise Anderson-Williams, prayed for the day she would hear her husband speak again. Not only was it the voice of numerous sermons, it was the voice that promised to love and honor her – all of these things occurred in the same church where Williams is once again preaching.
"I can't even describe what it feels like to have that back," said Anderson-Williams, who added that her husband's voice sounds like it did before, albeit quieter.
A native Houstonian who attended Booker T. Washington High School, Williams had no intention of being a preacher. In fact, he tried to ignore the calling, he said, but in 2006, he finally surrendered.
The irony of being called to preach only to lose his voice four years later isn't lost on Williams. "That's true, but that's not how I see it," Williams said. "If God had not wanted me to preach, he would not have called on me."