By Jeremy Reynalds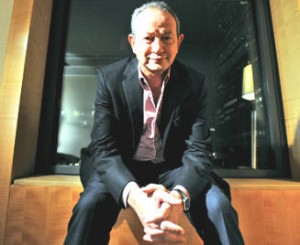 In June, he tweeted a cartoon of Minnie Mouse in a burqa, and Islamists worldwide threatened him with death.
As Egypt wavers between an Islamist and a democratic future, billionaire telecom scion and art patron Naguib Sawiris, 57, wants to be his country's next leader – and he's founded the Free Egyptian Party – as he prepares to do just that, according to a story by Abigail R Esman for Forbes Magazine
According to The Art Newspaper, Sawiris, who stands at number 310 on the Forbes Billionaire list (he's #2 in Egypt, just behind his father, Onsi, and one ahead of his younger brother), has ambitious plans. He wants to establish a secular democratic government in Egypt, and to crown his plans with a national museum that will house his own collection of modern and contemporary art, according to Forbes.
Many in the global art world may also recognize him as the person who pledged a $175,000 reward for the return of Van Gogh's Poppies, stolen from Cairo's Mahmoud Khalil Museum in August, 2010. That's a museum that also reportedly housed works by other major 19th century masters like Renoir, Gauguin, and Monet.
Such philanthropy runs in the Sawaris family, which has shown itself to be deeply committed to cultural achievement and the kinds of experimental arts that define a forward-looking, democratic society, Forbes noted.
Onsi Sawiris' Sawiris Foundation for Social Development, for example, offers annual prizes to young novelists, screenwriters and playwrights with a goal of stimulating Egypt's literary landscape – even its more controversial works.
Given the Minnie Mouse burqa episode, Naguib Sawiris is a man unafraid of risk or controversy. A Coptic Christian, he is seeking leadership of his country at a time when Copts have experienced a horrific growth in threats and violence from Egyptian Islamist groups, including a suicide bombing in Alexandria on Jan. 1, in which 21 Christians were killed and 100 injured.
In a subsequent attack this past March, according to a report by the Assyrian International News Agency (AINA),
A mob of almost four thousand Muslims attacked Coptic homes in the village of Soul, Atfif in Helwan Governorate, 30 kilometers from Cairo, and torched the Church of St. Mina and St. George …. A curfew was been imposed on the 12,000 Christians in the village.
AINA said this incident was triggered by a relationship between 40-year-old Copt Ashraf Iskander and a Muslim woman. A "reconciliation" meeting was arranged between the relevant Coptic and Muslim families, and together with the Muslim elders it was decided that Ashraf Iskander would have to leave the village because Muslims torched his house.
AINA said the father of the Muslim woman was killed by his cousin because he did not kill his daughter to preserve the family's honor, which led the woman's brother to avenge the death of his father by killing the cousin. The village Muslims blamed the Christians.
AINA said the Muslim mob attacked the church, exploding five or six gas cylinders inside the church, pulled down the cross and the domes and burnt everything inside.
Forbes commented it's evident that Egypt is not entirely ready for democracy, given such barbaric behavior. So why would Sawiris even try?
Forbes said in part, it could be said, it's because he can: his father's company, Orascom, which Naguib runs with his two brothers, is said by Time to be "the largest private employer and largest Egyptian company by market capitalization."
Forbes said the family firm encompasses Orascom Telecom Holding, Orascom Construction, Orascom Hotels and Development. It also has the recently acquired OTV television network, making Sawiris uniquely positioned to oversee – and even to dictate – much of the future infrastructure of Egypt, all while his family reaps the profits.
Yet Sawiris insists that these are not the reasons for his search for political power. According to a statement cited by the Art Newspaper, Sawiris has said that he "decided to be more focused on social and political work, aiming to play a role in the transformation of a post-revolution Egypt into a civil democracy."
Forbes asked whether this is political opportunism or genuine altruism, a desire to see true democracy in his native land. Forbes said it could be a desire bolstered by the knowledge that Sawiris, because of his family influence, quite possibly has the power to make it work.
Forbes author Esman said she suspects it's a bit of both; as a collector of challenging, avant-garde art, he has shown himself to be genuinely devoted to new ideas, to the democratic wave that stands behind much of Egypt's new art scene, and to liberal ideas.
Esman said certainly he stands in utter defiance of the Muslim majority and Islamist threat his country now faces. She added that it is hard to imagine that he, as a leader, would commit the kinds of atrocities perpetrated by Syrian leader Bashar al-Assad, who last week ordered a violent attack on Syria's top political cartoonist, Ali Ferzat, in retribution for an anti-Assad cartoon.
Esman said the truth is, even the powers of his wealth and influence are unlikely to help him win an Egyptian election – even a fixed one. Esman said she is very doubtful that the so-called Egyptian Spring arose from a mass will for democracy, or that the majority of Egyptians have any desire to see as democratic (let alone secular) future, and certainly not one led by a Coptic Christian and his political party.
However, Esman said, his voice is out there, and the power of his influence assures that other voices soon will join. Already one Egyptian Muslim woman, studying in London, has written admiringly about him and his plans on her blog, "The Romantic Revolutionary."
The Forbes article concluded by saying that the promise of a free and liberal Egypt may yet be ahead, one day, and if Sawiris will not be its ruler, he is poised to be the man who leads the way.– Jeremy Reynalds, ASSIST News