By Michael Ireland, ASSIST News Service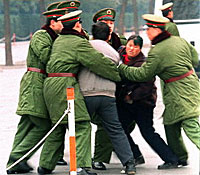 Thirteen Chinese Christian believers were taken into custody by authorities during an outdoor worship service held by the Beijing Shouwang Church on September 11. The gathering was the church's 23rd outdoor service.
Many believers have been detained at home since Saturday, according to ChinaAid.
"As far as we know," ChinaAid says, "at least thirteen believers were taken away on Sunday morning for going to the planned location to join the outdoor service, either at the spot or on their way there (including Pastor Wang Shuangyan and a male believer from a church in another city)."
Two of them were released on the way to a police station, and others were sent to eight local police stations of their respective areas. Four believers who went to visit at Malianwa Police Station were dragged into a room for interrogation by force.
Eleven believers were later released (including the female who was taken away on Friday night), and the other three believers were still under detention in two different police stations until Midnight on the 12th. The last male believer was released at 7:30am on uesday, the 13th.
One of the females among those who were detained in police stations, who was celebrating her birthday, was taken away because she went to the outdoor service with other two women in the morning. She was released for a while around noon, and then was taken into Zhongguancun Police Station again and was detained in the basement.
"Many believers, taking moon cake and birthday cards, went to accompany her, and waited outside the police station," ChinaAid said.
"When she was released around 11:00pm at night, they celebrated together and enjoyed the love of being in the fellowship of Christ. May God remember what she and other believers sacrificed."
The man who was arrested, who was not released until Tuesday morning (after forty-eight hours detention), spent an unforgettable Mid-Autumn day at Shuguang Police Station.
"In this special evening of Mid-Autumn day with no moonlight, our brother met his wife and child in the lobby of the police station under the watch of guards. Our sister witnessed that he was full of peace and joy when he hugged his child. Although it was Mid-Autumn day, a day to be with family, many believers went to wait outside police stations to be companions with those who were under detention. During this period of spiritual warfare, our love of being one family in Christ makes this Mid-Autumn day very special," ChinaAid reported.