By Michael Ireland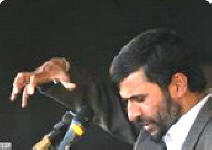 Iranian President Mahmoud Ahmadinejad says after the formation of a Palestinian state there will be no room for Israel in the region. Ahmadinejad's comments came after a day of pro-Palestine rallies on Friday, according to Mohabat News.
The rallies were part of an annual demonstration called Quds Day, an occasion where Iranian officials show their support for Palestine and condemn Israel. Quds is the Arabic word for Jerusalem.
Tens of thousands attended the Quds Day rally in Tehran. The regime's state TV reported millions of Iranians participated in the rallies in cities and towns across Iran, the news agency said.
Ahmadinejad also urged the West to stop supporting Israel.
"You and the Zionist regime will have no base in the Middle East," he warned, and dismissed the West's support for a two-state solution as a tactic meant "to save" Israel.
Reiterating his anti-Holocaust rhetoric, Ahmadinejad also said Israel was created on lies and added, "the Zionist regime is the axis of unity among all thieves and criminals of the world," the news agency reported.
This isn't the first time Ahmadinejad has expressed anti-Israeli views. In 2005, he said Israel should be, "wiped off the map."
Iran faces increased pressure from the West over its controversial nuclear program that Israel, the United States, and others contend will be used for making nuclear weapons.
The Islamic Republic denies the charge, insisting the program is for peaceful purposes only, such as generating electricity, the news agency said.