By Dan Wooding —
Mexican-American rock guitarist Carlos Santana has won ten Grammy awards-and was named number 15 on Rolling Stone's list of the 100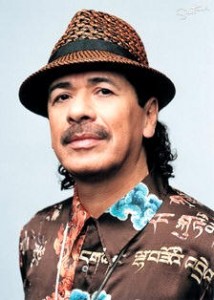 Greatest Guitarists of All time.
He was inducted into the Hollywood Walk of Fame in 1997, receiving a star on Hollywood Blvd. In 1998, he was inducted into the Rock and Roll Hall of Fame.
Born with a spiritual thirst left unquenched by the rigid, legalistic dogma of the Catholic Church of his childhood; left spiritually starved by a manipulative, attention-seeking Indian guru; and left scarred by the dissolution of a 34 year marriage, Carlos Santana's turbulent search for God nearly ended in suicide. Seven times.
It was only through acceptance of God's grace that his life was spared and his spiritual hunger finally satiated.
Santana came to the realization that his life was in the hands of God, not his own. But in order to overcome the stranglehold of his past, he had to swim through a saturated cesspool of horror: his father's abandonment of his family, the friend's father who molested him, the guilt from his Catholic upbringing.
Santana truly understood that "you have to go through the darkest night of the soul to get to the brightest light of the day."
To read the full story go to: http://www.ptm.org/11PT/fall/SelectArtcl.htm
——————————————————————————–
Dan Wooding, 70, is an award winning British journalist now living in Southern California with his wife Norma, to whom he has been married for 48 years. They have two sons, Andrew and Peter, and six grandchildren who all live in the UK. He is the founder and international director of ASSIST (Aid to Special Saints in Strategic Times) and the ASSIST News Service (ANS) and was, for ten years, a commentator, on the UPI Radio Network in Washington, DC. He now hosts the weekly "Front Page Radio" show on KWVE in Southern California which is also carried throughout the United States. The program is also aired in Great Britain on Calvary Chapel Radio UK and also in Belize and South Africa. Besides this, Wooding is a host for His Channel Live, which is carried via the Internet to some 200 countries. You can follow Dan on Facebook under his name there or at ASSIST News Service. He is the author of some 44 books. Two of the latest include his autobiography, "From Tabloid to Truth", which is published by Theatron Books. To order a copy, press this link. Wooding, who was born in Nigeria of British missionary parents, has also recently released his first novel "Red Dagger" which is available this link.