By Mark Ellis
She has been handing out tracts and witnessing for Christ almost every night for 41 years in the heart of Times Square.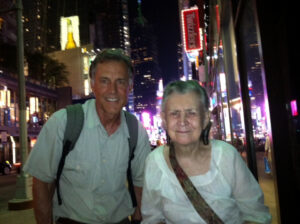 "In 1970 I started going out in the streets," says Irma Moares, 84. "People would tear up my tracts and throw them in my face and call me dirty names," she says. "Now they are nicer." 
Times Square has changed dramatically since Irma began her missionary outreach. Much of the tawdry atmosphere characterized by sex shops, adult theaters and go-go bars departed in the 1990s, replaced by tourist-friendly stores, restaurants, and jumbotrons lighting the night sky ala Las Vegas. 
Many credit the diminished crime and the clean – almost Disney-like atmosphere – to political figures such as Rudy Giuliani, Ed Koch, and David Dinkins. Few are aware of a powerful Christian presence and the fervent prayers of believers like Irma behind the scenes, interceding for the city. 
"I prayed that God would send a good church to Times Square and Pastor David came," Irma notes. She refers to David Wilkerson, the legendary evangelist, author and the founding pastor of Times Square Church, launched in 1987. 
Wilkerson received the call to Times Square when he walked down 42nd Street in New York after midnight. As he witnessed kids high on crack cocaine, pimps, prostitutes and runaways amid X-rated movie houses, he cried out for God to send someone. 
He was jolted by an unexpected reply. God wanted him to respond, a direct answer to Irma's prayers. Under Wilkerson's leadership, Times Square Church grew to an attendance of 8,000 with prayer and outreach to the disadvantaged a central component of their mission. 
Tragically, Wilkerson died April 27th in a head-on collision with a tractor-trailer in Texas. 
Irma loved Wilkerson and the vibrant church he led so many years. "I can't understand why God took Pastor David," she laments. "Send him back," she says softly to God. 
Her working life was spent in the garment district as a dress designer. She arrived in the U.S. from Brazil in 1964. In a thick Portuguese accent, she describes her upbringing in a Christian family, who led her to receive Christ as a young girl. 
Irma has no family in the immediate area. "The church is my family," she says. 
"I still go out to hand out tracts every night from 10 to midnight," she notes. "I tried to take a day off, but the Lord said he wants me out here every night." 
As she stands on a corner within a glance of the annual ball drop on New Years Eve, one could imagine an octogenarian might grow tired after witnessing every night for 41 years. "Yesterday I got tired," she admits. Still, she doesn't seem to want a Sabbath rest, maintaining that "God is my rest." 
Irma is guided by the Holy Spirit in her interactions with the multitude of visitors and strangers who pass her by. "I am possessed by God so I don't have to worry about what to say," she notes. "It amazes me what I say sometimes." 
"When you belong to God you don't have to worry about anything," she says. "Surrender to Him – He is perfect."