By Mark Ellis 
If Norwegian terrorist Anders Breivik is a fundamentalist Christian, he forgot something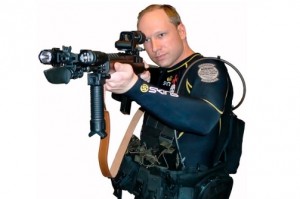 fundamental to the teachings of Jesus: "Love your enemies." 
A variety of prominent news organizations have described Breivik as an extremist Christian or a fundamentalist Christian.
At the earliest televised news conference, a Norwegian police official, Roger Andresen, helped to create this impression when he said, "What we know is that he is right wing and a Christian fundamentalist." Additionally, Breivik's Facebook page lists his religious affiliation as "Christian."
It appears that Breivik's horrific acts were motivated by a violent hatred of Muslim immigration intoNorwayand other countries inEurope. His rage against Muslim immigrants finally consumed him, with many innocent victims in his wake.
If Breivik read the Bible, then he also forgot about God's love for the poor and needy, widows and orphans, and yes, immigrants. In the Book of Exodus, God gives the following command: "Do not mistreat an alien or oppress him, for you were aliens in Egypt."
Similarly, in the Book of Psalms, David writes, "The Lord watches over the alien and sustains the fatherless and the widow, but he frustrates the ways of the wicked."
When God describes his love for the "alien," he is not talking about extraterrestrials. This is a clear reference to immigrants at the lowest rung of Hebrew culture – whether documented or undocumented.
God saw the Hebrew people's misery and distress when they were immigrants in Egypt. He rescued the Jewish people from bondage, just as he stands ready to rescue any Muslim who calls on His name.
The famous Dutch Bible smuggler, Brother Andrew, captures this sentiment when he says that I.S.L.A.M. stands for "I sincerely love all Muslims." Brother Andrew knows the West cannot defeat radical Islam with bombs. This is a spiritual battle, and it will be won heart-by-heart, as Muslims experience the power of the Father's love for the first time.
Was the Norwegian terrorist really a fundamentalist Christian? In his rambling 1500-page manifesto he describes himself as "moderately religious," and he calls for "a reformation of Protestantism leading to it being absorbed by Catholicism" – an unconventional view for a fundamentalist.
In the manifesto he also mocks salvation by faith, referring to Protestantism as "the Marxism of Christianity."
Moreover, on page 1361 he states that those who join his cause do not need to have a personal relationship with Jesus Christ. "As a cultural Christian, I believe Christendom is essential for cultural reasons. After all, Christianity is the ONLY cultural platform that can unite all Europeans, which will be needed in the coming period during the third expulsion of the Muslims," he writes. 
"You don't need to have a personal relationship with God or Jesus to fight for our Christian cultural heritage," Breivik continues. "It is enough that you are a Christian-agnostic or a Christian-atheist (an atheist who wants to preserve at least the basics of the European Christian cultural legacy (Christian holidays, Christmas and Easter))." 
Breivik's tepid, lukewarm, cultural Christianity should not be confused with a vibrant, personal relationship with Jesus Christ. His version of Christianity has more in common with those who perpetrated the Bosnian genocide. 
Through his own writings and horrific deeds, Breivik has distanced himself from all Christians with a living and active faith. The God of the Bible is reaching out to Muslims every day, showing them the power of His amazing love.