By Mark Ellis
Near the place Henry Ford launched the American automobile industry, the Muslim call to prayer can be heard above the cacophony of street noise.  Outside the local mosque is one pastor distributing Christian literature, ready to point Muslims toward the light and truth found in Jesus Christ.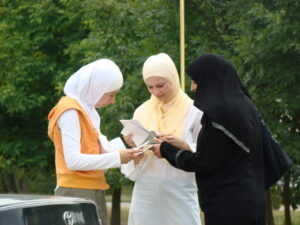 "Muslims are here from all over the world and we want to reach out to them," says Pastor George Saieg, founder of the M2M Network (www.ministrytomuslims.com).  "This is the time to be equipped to reach them," he says. "Our prayer is that they will be touched by the Holy Spirit and their eyes will be opened to see the truth." 
For several years, he and his team have attended the Arab International Festival, held in Dearborn, Michigan. The event attracts several hundred thousand Arab Americans, and Pastor Saieg finds it an ideal venue for Christian outreach. 
Last year Pastor Saieg was forced by local officials to distribute his literature five blocks away from the event. These restrictions are under review by the Sixth Circuit Court of Appeals. "Pray for a good result from the courts," he asks. "We believe the public sidewalks should be open for everybody." 
Pastor Saieg plans another outreach June 14th to 20th, coinciding with the festival. His team will offer local training for outreach volunteers on June 11-12, featuring workshops and lectures about answering Muslim objections and methods for reaching Muslims. Participants will engage in door-to-door evangelism, with mosque and park outreaches throughout the week. 
In their neighborhood outreaches, Pastor Saieg finds the local population to be remarkably open, friendly and hospitable. "They are a wonderful people," he notes. "They open their homes and invite us for tea. Muslims love to talk about God." 
One of his volunteers had to overcome her fears and stereotypes about Muslims before she went to Dearborn. "I realized I was allowing Satan to hold me back through fear," Maria says. "If you go in God's power, it doesn't matter how big the Goliath is," she says. 
"We prayed and worshipped, and then it was like watching the walls of Jericho fall down," Maria says. "Everybody wanted our material." 
 "I want people to pray for this event," says Pastor Saieg. "They have no assurance of salvation in Islam, but we have that assurance through Jesus Christ," he says. "We must reach out with the love of Jesus."