After workers at the troubled Fukushima Dai-ichi power plant were hospitalized yesterday, Japan's prime minister cited his grave concerns about the unfolding crisis. One nuclear expert believes the situation is close to the point of no return, which could mean a catastrophe larger than Chernobyl.
"This is huge," Physicist Michio Kaku PhD, a professor at City University of New York, told David Muir on Good Morning America. "For the first time, they are using that dreaded word 'breach,' which represents an uncontrolled release of radiation into the environment."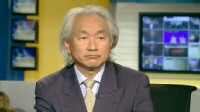 Yesterday, two workers had to be hospitalized after radioactive water burned the skin on their feet and legs, according to the Nuclear and Industrial Safety Agency (NISA). They were injured at the Unit 3 reactor, but the Kyodo news agency said that highly radioactive water was also found at Units 1 and 2. 
"Unit 3, which is suspected of containing the breach contains plutonium, the most toxic chemical known to science," Dr. Kaku notes. "One millionth of a gram of plutonium can cause cancer if it's ingested."
When the Fukushima plant becomes too toxic for emergency workers and they are forced to evacuate, a relentless downward spiral begins. "If they abandon ship, we could be in free fall," warns Dr. Kaku.
Kaku says the accident already exceeds Three Mile Island. "At Three Mile Island we had one reactor core sustaining 90 percent damage, but very little escape into the environment – there was no breach. Here you have three raging meltdowns in progress. You have one spent fuel pond open to the air, and hydrogen gas explosions. So this exceeds Three Mile Island."
Emergency workers are in a race against time as radiation levels keep building up. "Let's hope they bring this under control," Dr. Kaku says. "But if they go to a full scale evacuation of personnel, it means that firefighters are no longer putting water on to the cores. That's the only thing preventing a full-scale meltdown at three reactor sites."
"Once they evacuate, we're at a point of no return, meltdowns are inevitable at three reactor sites, leading to a tragedy far beyond Chernobyl, creating permanent dead zones in Japan."
On a previous appearance on Good Morning America, Dr. Kaku warned that the use of salt water to cool the reactors may produce an undesired side effect. "Salt water when it boils leaves large deposits of crusty salt. We think there are 90,000 pounds of salt in each unit, which gums up the rods, preventing cooling water from cooling down the rods." 
Without adequate cooling, hydrogen gas is released. "From this you could set off a massive hydrogen gas explosion at the spent fuel pond. That could release enormous amounts of radiation into the atmosphere. Unit 3 also has plutonium. So we have to watch those salt levels really carefully."
The scale of the potential release of radiation is greater than Chernobyl. "Remember that there are 12 sites where fuel rods can be found, including both damaged reactors and spent fuel ponds. If any one of them melts down or has a catastrophic explosion, it would force the workers to evacuate, causing other sites to also melt or explode."
"So the threat is much greater than Chernobyl, where only one reactor released over 25% of its core inventory into the air," Dr. Kaku adds.