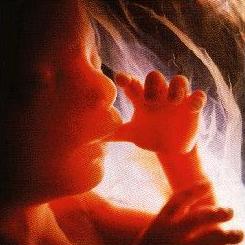 The disproportionate rate of abortions performed on African Americans led black pro-life leaders to gather recently for a nationwide day of mourning in an effort to reduce what they describe as the "genocidal impact" of abortion.
"The National Day of Mourning called attention to the fact that there are African Americans all across the nation who recognize the genocidal impact that abortion is having on the black community and who are willing to take a public stand for the sanctity of life," said Catherine Davis, spokeswoman for the National Black Pro-life Coalition.
In 2008, 30 percent of the 1.21 million abortions performed in the United States were on non-Hispanic black women, according to the Guttmacher Institute. During the same year, the U.S. Census Bureau reported 13.5 percent of the U.S. population was black.
The National Black Pro-life Coalition sponsored the event on Feb. 28, the last day of Black History Month. Events were held in 14 different states at abortion clinics and state capitol buildings. Participants prayed and sought to educate communities on the effects of abortion, especially in the black community.
Davis, a member of the Network of Politically Active Christians (NPAC), and Day Gardner, president of the National Black Pro-life Union, both told Baptist Press they were well received within the communities where they attended Day of Mourning events. Many individuals from within the community spoke to the members of the coalition, prayed and shared their stories of regret about abortion, said Gardner, whose organization partners with the National Black Pro-life Coalition.
Gardner, along with other members of the coalition, gathered outside Kermit Gosnell's now-closed abortion clinic in West Philadelphia. Gosnell has been charged with murdering seven babies outside the womb with scissors and giving a lethal dose of painkillers to a woman seeking an abortion. A 2010 raid of the clinic, the Women's Medical Society, found it in a deplorable condition, with the remains of 45 infants stored in bags, milk jugs, orange juice cartons and cat-food containers, according to a grand jury report.
"America on the whole is becoming more pro-life. But there has been an awakening in the black community, and that is very exciting because once black people come to say, 'No,' to abortion, abortion will cease to exist," Gardner said.
The National Black Pro-life Coalition believes the abortion industry is targeting African Americans as a means of population control. The film "Maafa 21," produced by Life Dynamics Inc., connects Margaret Sanger, founder of Planned Parenthood, to several eugenics societies. Eugenics is an effort to improve humanity through selective breeding.
"Maafa 21" discusses how Sanger earned trust in the black community, but was speaking at events held by the Ku Klux Klan and trying to increase the amount of birth control available to "unfit" people.
Sanger got close to black religious leaders in order to persuade African-American women to use birth control, and Sanger's 1939 Negro project was simply a plan to get rid of black people, Gardner says. "The truth of the matter is that it is black genocide. The fact is that Planned Parenthood began [with] a very strong racist beginning. I think it is necessary to understand exactly what was going on in America at the time," Gardner said.
An African-American leader of an abortion-rights organization disagreed with the coalition's message of abortion's genocidal nature in the black community.
"Sensational claims about genocide such as those made by these groups get a lot of attention, but the truth is that most women who have abortions, including black women, already have a child or will have a child in the future. The main reason for high rates of abortion in the United States — generally and among black women in particular — is unintended pregnancies. Fifteen percent of black women at risk for unintended pregnancy do not use contraception, as compared to nine percent of white women," said Carlton Veazey, president of the Religious Coalition for Reproductive Choice (RCRC).
There are studies, however, that show the use of contraceptives does not reduce the abortion rate. A Spanish study that took place between 1997 and 2007 found contraceptive use among women in Spain increased from 49.1 to 79.9 percent, while the abortion rate nearly doubled from 5.52 per 1,000 to 11.49 per 1,000. The study was published in Contraception and cited in a Jan. 5 article at LifeSiteNews.com.
A recent billboard in New York's SoHo district portraying a young black girl and claiming "The most dangerous place for an African American is in the womb" stirred up controversy and was removed in February. The pro-life organization Life Always sponsored the billboard.
"The statement that the billboard made is actually true. However, in educating people it's going to take a little bit more than just putting up a billboard to get people to understand, because the natural reaction that people have is that it is attacking women," said Davis, whose organization is not associated with the billboard.
Veazey's reaction seemed to demonstrate Davis' concern.
"These billboards are racist because they use race to stigmatize and shame African-American women. There is no truth to this or any related statement," said Veazey in an e-mail to Baptist Press.
Despite the opposition, Davis said the National Black Pro-Life Coalition plans to continue educating the public on the nature of the abortion industry.
"You will see more concerted efforts coming from African Americans around the nation as we begin the dialogue to say, 'Is abortion having a genocidal impact? And if it is, what can we do to impact those numbers in a significant way?'" Davis said.  –Amanda Kate Winkelman, intern with the Washington bureau of Baptist Press.