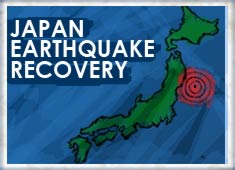 Many mission organizations are prayerfully developing their strategies to make a difference in Japan, even as the crisis continues to unfold in its many dimensions. Some see an unprecedented opening for the love of Christ to touch hearts and lives as never before. 
"Japan is wide open to the Gospel," says Dave Loewen, personnel director in the U.S. office of SEND International. SEND currently has 43 adult missionaries serving in Japan, along with 32 children. 
This interdenominational organization has planted 76 churches in Japan since the aftermath of World War II. SEND began because of the burden many veterans felt for the Japanese after their service in the war. 
"We are now planning for the next steps to meet the crisis," Loewen says. SEND is working with the Japan Evangelical Church Association (JECA) to help with recovery efforts. They will not send people immediately, because that would interfere with government responders. "We can help with the long-term needs." 
Their long-range view of crisis response bore results after a massive earthquake struck Taiwan in 1999. SEND International and local Christians went at least monthly to a community they adopted for relief and rehabilitation. At the one-year mark, many Taiwanese recognized, 'The government was here and left. The Buddhists were here and left. You Christians keep coming back and loving us!' 
"Since the end of WWII, the gospel has been proclaimed in Japan with only minimal fruit," Loewen notes. "There are 300 bodies lying on the shore in Sendai. The statistics would suggest that only two or three of them may have been Christians." 
SEND Japan is seeking small teams and individuals willing to come to Japan this summer for 2 weeks-1 month to help with the recovery efforts. Interested churches or individuals should contact [email protected]. 
Lowen served in Japan for 24 years as a missionary and has a heavy heart for the plight of the people of Japan. "The gods they believe in have not been able to protect them," he notes. "Will this disaster, coupled with economic and social instability in Japan, turn the hearts of Japanese to Christ?"