By Mark Ellis —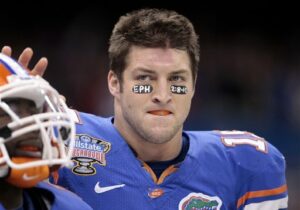 With less than a minute to go, Denver quarterback Tim Tebow stunned N.Y. Jets fans with a 20-yard touchdown run Thursday night, after he led his team on a 95-yard drive for a 17-13 come-from-behind win. After the game he dropped to his knees in prayer, then quickly praised God in post-game interviews.
"First and foremost I have to thank my Lord and Savior Jesus Christ and thank my teammates, because these guys believed in me and stuck with me for all 60 minutes," he said.
Tebow has evoked strong emotions from critics and fans — ranging from adulation to disdain – but it doesn't seem to faze him. Some criticize his throwing motion, some his reliance on an unorthodox option offense. Some of the attacks may be a thinly-veiled response to his bold proclamations of faith.
"I'm not sure why (they criticize), but I am extremely blessed," he said after the Jets game. "God has blessed me with so many people that support me, my family, and a great coaching staff that supports me."
His performance is slowly silencing the naysayers, because the Broncos (5-5) are 4-1 since Tebow replaced Kyle Orton as quarterback.
At 240 pounds of bone, muscle and grit, some say he has a fullback's mind and instincts inside a quarterback's body. He often chooses to run the ball himself, plowing over defenders, rather than throw to open receivers. This also provokes his critics, who say he should throw the ball more.
"We're blessed to have a lot of great receivers who are very unselfish," he notes. "They put the team first and their number one priority is to win."
Before the Broncos started their final drive, Tebow gathered his men in the huddle and gave them a few words inspired by his faith. "This is an opportunity when great things can happen," he told them. "Let's be great right now." As he worked the ball down the field to another miraculous finish, it was reminiscent of David with his mighty men.
It also brought back memories of his performance in Miami, when he was lackluster for most of the game, then led the Broncos to two touchdowns in the final minutes to win the game in overtime. Tebow completed only two of his passes in the Broncos' win over Kansas City less than a week ago.
"We won because of our faith and because we were relentless," he said. "We just kept fighting."
"People aren't always going to like you, but you have to keep believing," he added. "It may sound clichéd, but it's not how many times you get knocked down, but how many times you get back up. That's something my parents always preached to me and something I've always believed."
The Heisman Trophy winning quarterback was born in the Philippines, and his parents have been missionaries there since 1985. Recently, the Tim Tebow Foundation announced they will build a 30-bed hospital in the southern Philippines, in partnership with CURE International.