by Rob Kerby, Beliefnet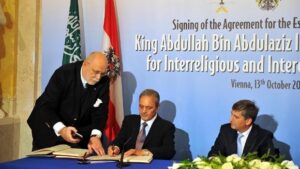 The Kingdom of Saudi Arabia is financing a new organization designed to bring all the world's religions together.
"The organization hopes to prevent conflict through interfaith dialogue," writes Spencer Kimball for the German news site Deutsche Welle. "The foreign ministers of Austria, Saudi Arabia and Spain signed the founding treaty of a new international organization designed to foster dialogue between the world's major religions on Thursday."
"The thesis is valid that world peace cannot exist without peace between the world's major religions," Saudi Arabian Foreign Minister Prince Saud al-Faisal said during the signing ceremony in Vienna, according to Deutsche Welle.
The King Abdullah Center for Interreligious and Intercultural Dialogue, initiated and financed largely by Saudi money, is set to have its seat in Vienna. Plans envision an organization with a governing body composed of 12 representatives from the world's five largest religions.
The governing body is set to be staffed by two Muslims (Sunni and Shiite), three Christians (Catholic, Anglican and Orthodox), a Buddhist, a Hindu and a Jew. The organization will also have a consulting body with 100 representatives from the five world religions plus other faiths as well as academics and members of civil society.
Austria's Foreign Minister Michael Spindelegger said that the organization's structures are designed to ensure that none of the represented religions dominates the organization. The three founding states are also open to the membership of other countries, according to Spanish Foreign Minister Trinidad Jimenez Garcia-Herrera.
Saudi King Abdullah initiated the idea for the center after visiting Pope Benedict XVI at the Vatican in 2007, the first Saudi monarch to do so. Shortly thereafter, King Abdullah stated that Christians and Muslims should offer a common message of peace to humanity.
Abdullah then initiated an interfaith dialogue in Mecca in 2008 followed by a second meeting in Madrid with Jewish representation. A third meeting took place in Vienna's Hofburg in 2009, where the concept of the organization was agreed upon.
The Initiative of Liberal Muslims protested Thursday's signing ceremony in Vienna, saying that the center was an attempt by Saudi Arabia to spread a conservative form of Islam.
The idea is not new. In 2003, the Christian Broadcasting Network reported on a UN-sponsored summit of the world's religions.
"A one world government and a one world religion — it may just sound like fiction from the popular Left Behind novel series," reported Wendy Griffith for CBN News. "But some Christians say this scenario may be closer than most people think. Earlier this fall in Geneva, hundreds of spiritual and religious leaders met for a peace summit. And although all the major faiths were there, including some who claim to represent Christianity, it was clear that Jesus was not invited."
To say that many Christians do not welcome the notion of a one-world religion would be an incredible understatement. Just in recent weeks, longtime TV prophecy preacher Jack Van Impe ended decades of broadcasting on the Trinity Broadcasting Network — charging that popular author and pastor Rick Warren has been too cozy with Muslims. Van Impe charged that the intent is a merger of Islam and Christianity — Chrislam. Warren scoffs at the notion, saying that he supports a Christian-Muslim dialogue — and that Christians are required to love all Muslims and win them to Jesus.
In 1997 another conference raised alarms.
"Nearly 200 delegates wrapped up a week-long interfaith meeting at Stanford on Friday, predicting they had given birth to a movement as well as a spiritual institution: the United Religions," reported the California newspaper San Jose Mercury's religion and ethics writer Richard Scheinin. "The 'spiritual United Nations,' as some have referred to it, would be a world assembly for humanity's myriad spiritual traditions. The international 'summit conference' brought together delegates from every continent to inaugurate formal efforts to figure out the organization's structure and mission and launch a charter-writing process. After several years of talking, the initiative's planners had finally gotten down to business.
"'You are deputized!' the Rev. William E. Swing, bishop of the Episcopal Diocese of California, told delegates as they prepared to go home. 'Tell the people that there is a United Religions, and that somewhere in the world, it is beginning to happen: that the religions are going to have an oasis where they can talk about peace.'"
So, will it happen this time?
Read more: http://blog.beliefnet.com/news/2011/10/saudis-underwrite-organization-to-bring-worlds-religions-under-one-roof.php#ixzz1asDkBEux