By Mark Ellis
Apollo 15 astronaut James Irwin had an encounter with God on the moon that left him a changed man. When he returned to Earth, he become a bold ambassador for Jesus Christ as he met with the leaders of many countries throughout the world.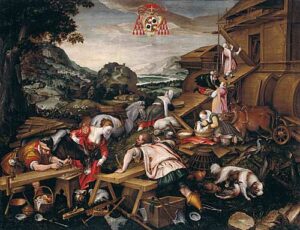 Irwin also led multiple expeditions to Mt. Ararat in search of Noah's Ark. If found, it would arguably be the greatest archeological discovery in history. Tragically, Irwin died of a sudden heart attack in 1991, with his quest to find the Ark unrealized.
Now his widow, Mary Irwin, is convinced she knows where the Ark is located – and where it's not located.
Two years ago, she was interviewed for four hours by a team working on the National Georgraphic documentary production: "Truth behind the Ark." After Mary viewed the documentary, she felt the title of their project was highly misleading.
"There was barely a shred of truth in any of it," she notes. She feels that she and her son-in-law John – both devout Christians, were made to look like "fools" by a film with an agnostic bias. Apparently, the filmmakers believe the story of Noah's Ark has its roots in Mesopotamian folklore. 
After Mary watched the production she came "unhinged," and considered dashing off a protest letter to National Geographic. But her children urged her to do something more important – author her own book about the Ark.
She had already studied the subject for 25 years. After praying about it, she told God, "I'm willing to do this if you help me to think outside the box and help me to put it together. I can't do this without your help."
A bit of a detective at heart, she dove into her new research with relish, examining seven of the most noted stories. She slowly demolished the less credible reports as pure fiction.  "Week after week it would boggle my mind as I got more and more information." At a certain point, she reached a dead end, with clues to the location of the Ark pointing in different directions.
"One man saw it on one mountain and one saw it on another mountain. I realized it couldn't be on two different mountains," she notes. Frustrated at this moment, she began to pray, "God, you have to open a door and show me."
She laid the project aside while she waited on the Lord. Then a breakthrough came. "The Holy Spirit brought to my mind that in my late husband's office in one of the file cabinets he had a whole drawer marked 'Ararat.'"
Mary knew the contents of the Ararat file – if it could be located, would be stored in her daughter's garage. She called her daughter excitedly and asked if any of the files were discarded. No, they were all there, she replied.
As she raced over and went through the file drawers she found what she had been looking for – the file James Irwin assembled in the years leading up to his death, marked 'Ararat.'
As she pieced through the contents she found a 25-year-old letter from a German woman named Karola Kautz who had done 20 years of research on Noah's Ark. "I looked at it with my mouth hanging open," Mary says. The closing words of the relatively short missive contained this enigmatic warning: "Jim, please do not risk your life on Mr. Ararat, where the Ark has never been."
Kautz founded the Society for the Interpretation of Ancient Texts, after she was mentored by R.K. Harrison of Wycliffe College in Toronto. Kautz's research of the ancient Hebrew text led her to the conclusion that Genesis 8:4 never specifically names 'Ararat.' She concluded the Ark landed elsewhere.
Mary met with her friend Bob Cornuke, whom she describes as a modern-day Indiana Jones. He accompanied Irwin on several expeditions to find Noah's Ark and founded the Base Institute after Jim's death. "I've got to find this woman," he told her.
"Bob, she's dead," Mary replied. But within a few days, the former LAPD investigator had located Kautz's children and discovered they had a wealth of research – boxes and boxes. "She had a 300-page manuscript about Noah's Ark," Mary exclaims. "I was blown away. God was putting this together."
Also in the Ararat file was a nugget even more valuable than Kautz's letter: six tape recordings bundled together with rubber bands, recorded with the only Westerner she believes actually saw the remains of the Ark, Ed Davis.
Working with the Army Corps of Engineers in the Middle East, Davis was taken to see the Ark in 1942 by farmers, according to Mary. "He passed three lie detector tests," she notes. "He knew where he was and I've proven where he was."
"It was raining and snowing on and off the whole time Davis was hiking," she says. "They had to spend the night in caves." When they got to the Ark, it was broken in two pieces.
"I wish he was still alive so he could look at my maps and everything I've found."
More details of Mary Irwin's extensive research will be revealed in her upcoming book about Noah's Ark. While she is convinced she knows where it is, she presents the research in a way that will allow readers to form their own conclusions.
"I've taken a half dozen men's stories and examined them and proven that what they said is not true," she says. "When this book comes out, it will stir up a hornet's nest."
"I have absolutely ferreted out all the facts. God has put this together miraculously."