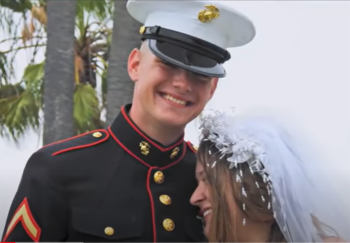 By Stephen Lahood –
Just when Jacob and Charlsie tried to honor God by getting out of debt – he took a second job, she got food at the Food Bank – simultaneously both of their cars broke down and needed expensive repairs.
It was a blast of discouragement undermining their newfound determination to "not be a slave to the lender."
Marines don't make much money in the first place. The sacrifice of being separated for most of their three years of marriage while Jacob was deployed was already a burden. When they took stock of their growing credit card debt, they felt crushed.
"The joy of being back together was dampened by the weight of, 'wow, okay, we we've got debt and it's growing,'" Charlsie explains on a CBN video.
"We looked at it, we were like, 'wow, that hurts.' And that was kind of our wakeup call where we came together and we were like, 'we can't, do this. We need to learn the skills, apply them, and pull ourselves out of this hole,'" Jacob adds.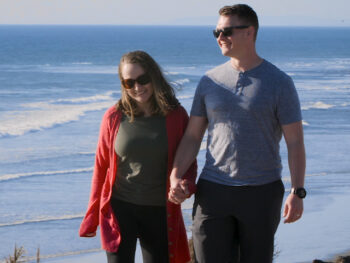 In a bid to get the upper hand over expenditures, they dropped their cable and internet.
They were just beginning to feel they would soon be above water. Then disaster struck both of their cars. It was a devastating blow.
"Right now, fixing the issues with either car can't be at the top of our priority list," Charlsie remembers thinking. "There are other bills and needs that come before doing that."
They considered downsizing to just one car. But they really needed both. Charlsie volunteered a their church, Pillar Church in Oceanside.
Pastor Mike became aware of their struggles and made a bid to intervene. First, he contacted Helping the Home Front, which coordinates with local churches to evaluate and donate to servicemen.
Then they got CBN involved. CBN not only paid off their credit card debt, CBN also paid for their repairs at the Toyota dealership.
As Pastor Mike informed them in front of rolling CBN cameras, the couple broke down and began to cry.
"Both of the cars?" Charlsie asked, incredulous.
"Yes, both of them," Pastor Mike responded.
They were flabbergasted. What seemed like a sucker punch to their obedience to Christ became a full-blown blessing.
"It's a new day every day. Joy comes in the morning," Pastor Mike says. "We pray that this is the morning that you have been waiting for."
Stephen Lahood studies at the Lighthouse Christian Academy near Rancho Park, Los Angeles.