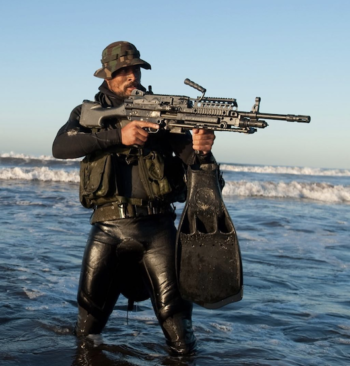 By Michael Ashcraft —
David Goggins was a 300-pound exterminator recovering from the trauma of beatings by his father — a pimping owner of a roller-skating rink who made young David sanitize skates and scrape gum off the floor until midnight.
Then David watched, with milkshake in hand, a Navy SEALS reality show and made a decision to be a SEAL. When he showed up at the office, the recruiter scowled at his obesity. He would have to lose 100 pounds in three-months, the cutoff to get training. David decided to redirect his childhood pain into the arduous physicality of SEAL training.
The pursuit of that impossible goal is what made David Goggins the person he is today. He's arguably America's fittest man, the only serviceman to complete not only the Navy SEALs but also Army Rangers and U.S. Air Force Tactical Air Control Party. He now runs consecutive ultra-marathons and is a motivational speaker.
David Goggins credits the voice inside his head, God's voice, with training him.
Just as the Apostle Paul went into the Arabian desert for three years and was trained by Jesus himself, God's voice led David through SEAL training.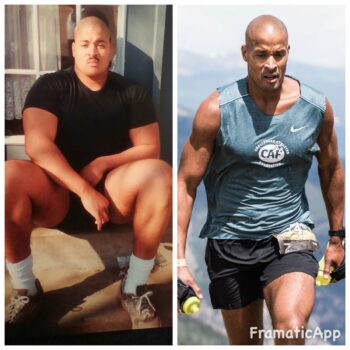 "Even though people may not believe it because I cuss (which I think is hilarious), I believe in God big time," David says on a YouTube video. "I've had this voice in my head since I was a young boy. What trained me was that voice. This voice in my head guided me to the spot where I'm at today."
David Goggins, now 46, grew up in Williamsville, New York, where he was regularly subjected to racist taunts. His late-night work at Skateland started at age six, where he aired out the bathrooms from marijuana smoke and collapsed around midnight on a couch where his dad hid a loaded pistol.
David's father, Trunnis, ran a side hustle of hookers, with whom he would indulge himself, cheating on mom. He was a brutal monster who regularly beat David and his mother until they escaped, with the help of a neighbor, to rural Indiana. The toxic upbringing left him poorly adjusted, and he drifted through school hovering slightly above a failing grade point average.
In his junior year, he decided to join the Air Force and amped up his studies to graduate and get in. He completed a 4-year stint but dropped out of Pararescue training because he was afraid of water. He was not fearless but would eventually learn how to turn his fears into energy to perform herculean feats.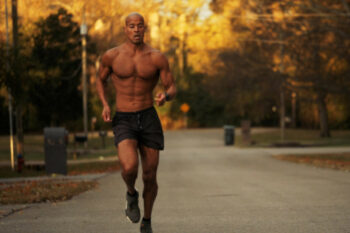 After an honorable discharge from the Air Force, David picked up work in a pest control business, removing rats from fast food joints afterhours. Low self-esteem and a life adrift contributed to an easy slide towards obesity. Gorging on unhealthy food and a sedentary lifestyle contributed to his weight problem.
That's when he watched a program about SEALs and decided quixotically to join.
The recruiter didn't mince words. He was way overweight, and there weren't a lot of African Americans who passed the SEAL training. He would need to lose about 100 pounds in three months to get in. He was almost too old to try out for the program, so three months was the cutoff. The recruiter probably thought he'd never see David again.
David decided to prove him wrong.
"I realized that not all physical and mental limitations are real," David writes in his inspirational memoir Can't Hurt Me. "I realized I had a habit of giving up way too soon."
Navy SEAL training is reputed to be the most extreme, grueling and severe of special forces, and it took David three tries (pneumonia disqualified him on the first attempt and a chipped knee cap the second) to graduate from BUD/S training with Class 235 in 2001. Assigned to SEAL Team Five, Goggins served in Iraq.
He then decided to submit to Army Ranger School and graduated in 2004 with the distinction of achieving "Top Honor Man."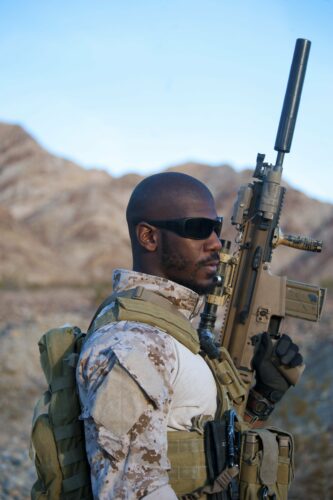 He retired from the military with the rank of Chief Petty Officer. He learned not to flee hardship or whine about difficulties. He learned that hardship was what made him better.
Deep inside, there was a voice. God impressed on his heart to not succumb to the racist taunts of his childhood, the beatings of his father, the low self-esteem and obesity of his early adulthood, and to the fears that once scared him away from military distinction.
"One thing I don't talk about is my relationship with God. If you believe in nothing, what's the point in living?" he wrote one day on Instagram. "I believe God has given us all our own individual test. If the power of the brain can allow people to make split second decisions, then imagine what the brain can do with great focus and direction. Believing in something bigger than me has always kept me in the fight. We must do our part first before God will help out."
When several of his friends died in Afghanistan in a helicopter crash in 2005, David decided to raise funds for their families through ultramarathons and other endurance challenges.
He applied to the Badwater ultramarathon, a 135-mile race starting in Death Valley subject to temperatures up to 130 degrees through an 8,360 foot ascent to the trailhead of California's tallest peak, Mount Whitney.
He was declined because entrants must first prove their prowess in other competitions to receive an invitation. If the ultramarathon transcends the marathon, the Badwater is the peak competition of extreme stamina.
With steely determination, David fulfilled all the requirements to receive the invitation. Despite having no prior marathon training, he completed the San Diego One Day 101-mile ultramarathon in 19 hours and 6 minutes.
Next, he bagged the Las Vegas Marathon and Boston Marathon. At Hawaii's Hurt-100 ultramarathon, he came in ninth place (only 23 runners completed it).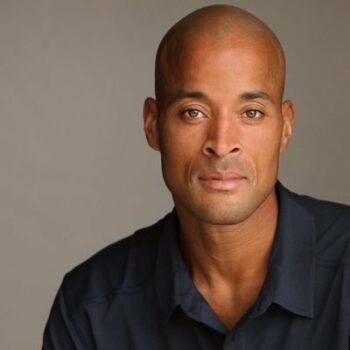 Badwater extended him an invitation in 2006 and David came in 5th place overall, an unheard-of feat for a relative novice.
Through his running, David has raised more than $2 million for the Special Operations Warrior Foundation. He has completed over 60 marathons and ultramarathons.
"For some of us our test on earth is very hard. It may feel like God is never going to help out. Trust me I know the feeling," David says. "It wasn't until I retired from the military that I realized He was helping me the entire time. I would wonder when I was growing up if I would ever feel happiness and be proud of myself.
"The path God put in front of me was full of adversity and failure," he says. "Well that path of adversity and failure led me right to peace. Hope is all around you. During bad times stand tall with your head up. Stop kicking rocks feeling sorry for yourself."
"In 2013, David broke the world record for the most pull-ups within 24 hours when he completed 4,020.
"
Find purpose and believe in something bigger than you and you will be able to laugh in the face of adversity. As iron sharpens iron, so one person sharpens another. The problem isn't life. The problem is how we think about our own life."
In addition to exercise, eating healthy is part of taking care of "the Holy Spirit's temple," so the writer sells a bamboo steamer basket online for healthier cooking.