By Mark Ellis —
An Israeli family credited 'miracles' for their survival after their home sustained a direct hit from a long-range missile fired from Gaza.
"We are in shock, but the most important thing is that we are all OK," Daniel Wolf told Channel 13 from the hospital. "It was traumatic. After the explosion, there was silence, dust and screaming. Destruction everywhere."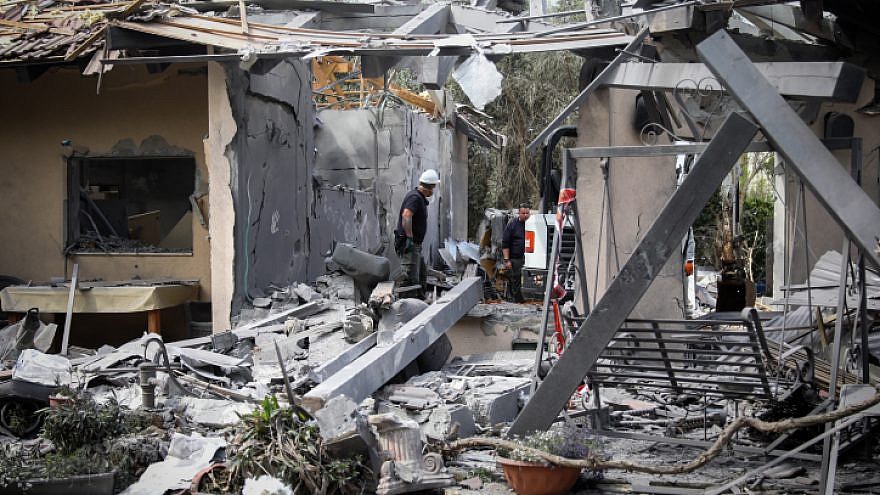 Daniel, who lives north of Tel Aviv, heard the siren warning of a rocket attack shortly after 5 a.m. on March 25th.
The rocket flew 60 miles from southern Gaza until it landed on their house. The force of the blast was so colossal that it damaged several houses in the vicinity, blowing out their windows and cutting the gas line, according to the Jewish News Syndicate (JNS).
Miraculously, there were no subsequent explosions resulting from the missile strike.
It was the most far-reaching attack since the 2014 Gaza war, according to JNS.
"When I heard the siren, I ran and grabbed my oldest daughter, and then I got my wife and my younger daughter and dashed them to the shelter," Daniel told Channel 13. "My mother was in between the shelter and the kitchen when we heard an enormous explosion followed by silence … it was terrible."
Daniel's father and sister were standing in the front yard, moving toward the bomb shelter when the rocket hit, and amazingly had only minor injuries.
"There were a lot of miracles that happened," Daniel told Channel 13.
Under normal circumstances, Daniel and his wife would have been asleep in their bedroom at that time of the morning. In that particular room, it is unlikely they would have heard the siren.
But God's providential care allowed Daniel to fall into a deep sleep on a couch in the living room the night before – something that usually doesn't happen. By falling asleep in the living room, he was able to hear the siren, albeit faintly in the distance.
When he heard the siren he immediately awakened and roused his wife, parents and daughters, herding his wife and daughters into the shelter.
Daniel's mother, Susan, didn't make it to the shelter and suffered the most serious injuries in the family.
"I nearly lost my family," Daniel's father, Robert said, as he stood outside the destruction. "If we had not gotten to the bomb shelter in time, I would now be burying all my family."
"That is two grandchildren, one five-months old, one two-years-old. That would be my third child with his wife, my wife, myself and my youngest daughter. They would all have been dead if we didn't do what we had been supposed to do."
Daniel Wolf was protected like his namesake in the Bible:
At the first light of dawn, the king got up and hurried to the lions' den. When he came near the den, he called to Daniel in an anguished voice, "Daniel, servant of the living God, has your God, whom you serve continually, been able to rescue you from the lions?"
Daniel answered, "May the king live forever!My God sent his angel, and he shut the mouths of the lions. (Daniel 6:19-22)
If you want to know more about a personal relationship with God, go here