By Shannon McIntyre —
David Valcich was charged with 18 felonies and three misdemeanors for writing fake prescriptions and turning them in to pharmacies. He faced a maximum of 45 years in prison.
When David was 9 years old, his parents divorced. The beleaguered boy was asked which parent he wanted to live with. His dad encouraged him to stay with mom.
"It was tough. My world was shattered," David told CBN.
His reaction to the crumbling stability in his life? Uncontrollable behavior.
Shuttled frequently between mom and dad, it seemed neither could impose good behavior on him.
He got into fights, bouts of anger, confusion and rebellion. He spent time in juvenile delinquent centers "going from one foolish act to the next."
In middle school, he found he could channel his rage in weightlifting and football.
"It gave me some sense of control over some area of my life," he recalled.
He graduated high school "by the skin of my teeth." He walked onto a Division 1 football team at Middle Tennessee State University, but he fell into partying. First it was steroids. Then injuries introduced him to painkillers. Like so many, he got hooked.
A "computer savvy friend" helped him write out prescriptions for more drugs.
"Anything to numb the pain from emotions and wounds that had never been dealt with or healed," David told CBN.
One day when he walked in the pharmacy, there were two undercover narcotic agents waiting for him. He resisted arrest and in the ensuing melee, the whole pharmacy got trashed.
He was then charged with the 18 felonies and 3 misdemeanors — confronting him with a maximum possible sentence of 45 years.
All but one of the charges were dropped, leaving him to serve a mere month in jail.
He realized that his chances for an education and a sports career had gone out the window, which led him to do cocaine for the next 10 years.
He calls his 20s "the lost decade."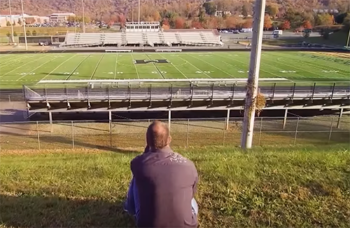 "It was a miserable existence completely devoid of meaning and hope," he said.
David overdosed three times, and on that last time, in June 2006, when he woke up in the hospital, the doctors told him his kidneys were shutting down. He had renal failure and had tested positive for Hepatitis C.
Doctors gravely informed him that he would need dialysis and he'd be dependent on it for the rest of his life unless he got a transplant.
"It was like someone had just dropped a payload of bricks on my chest," he says. "Utter hopelessness and despair. As I waited there in the hospital, I was mourning the wasted years."
After four days, he was told that he was not getting any better and that they needed to start him on dialysis the following day.
That night, David cried out to God: "I don't even know if You're real, but if You are, I want to know You. Please help me."
The doctors came in the next day with shocking, yet great news. They didn't know how, but he had a complete turnaround and was being discharged later that day.
He was instantaneously, miraculously healed!
"I knew it was God answering my prayer," he says. "I was amazed."
Over the next six months, David moved in with his mother and asked many questions about his faith and sought out God.
On Christmas morning at 3:00 am, David couldn't sleep and went out to his living room to watch television. The Gospel of John was playing and he knew, again, that "God was doing something in him and that Jesus had died for me."
"I just knew that not only did God heal my kidneys in that hospital bed, but that Jesus Christ was real and was born into this world," he says. "I didn't have this full grasp of the gospel, but I understood in that moment on that morning that Jesus died for me. It was just mind-blowing."
He asked God for forgiveness and was set free.
"I was on my mom's floor bawling like a baby for I don't know how long," he recalled.
Now, David works as an area representative for Fellowship of Christian Athletes in Charlottesville, Virginia. He frequently goes to services and worships God. Even his family reconciled after years of brokenness.
An empty void was filled in David with the "authentic life changing power of Jesus."
"God is in the restoration business," David says. "He loves retrofitting things to adopt them to a new purpose. He also redeems things from our past and then uses in the present. I realized there was nothing in the world that could fill the hole in my heart and that only Jesus could."
To know more about a personal relationship with God, click here.
Shannon McIntyre studies at the Lighthouse Christian Academy in Los Angeles.